I'm going to put it out there that the taller the person the more likely they are to suffer lower back pain!
Why?
Because tall people tend to slouch when they walk or sit.
Unfortunately the world is not built with tall people in mind. For most tall people work desks are too low, doorways are too low and kitchen bench tops are too low. This unfortunately forces us to round our shoulders and hunch. Furthermore, staring at our smartphones isn't helping either. Just take a look around next time you are on public transport; I guarantee that about 95% of people staring at their phones will be hunched over or slouching.
When we slouch, the ligaments in our back become overstretched, eventually leading to aches and pains.
But wait, it gets worse.
Some tall people may develop what's known as lordosis (i.e. excessive inward curvature of the spine; it gives the appearance that a person is sticking out their stomach and buttocks). Lordosis occurs when the natural arch in the lower back, or lumbar region, curves more than normal. This can lead to excess pressure on the spine, causing pain.
What causes lordosis?
Poor posture!
AND
Poor core muscle strength.
If you haven't already guessed: good posture, a strong core and flexibility are key to preventing lower back pain!
In a previous article I addressed posture and how to improve it. If you haven't read that article yet I suggest you take a look here.
Below, I present some tips to help improve your flexibility and core.
Hamstrings, flexibility and lower back pain
If you work an office based job where you spend a majority of your day sitting at your desk then there is a high chance you may have tight hamstrings. This is bad as over time tight hamstrings correlate to lower back pain!
The hamstrings are a group of 3 muscles located on the back of femur or thigh. The muscles connect from the buttocks area of the pelvis to the backsides of the lower leg. This allows the hamstring muscle group to bend the knee as well as extend the hip (bringing the thigh behind you). Normally the spine is set in such a way that there is a small curve in the low back. When the muscles in the back of the thigh are too tight they can pull the back side of the pelvis downward.
This downward pull of the pelvis can cause a flattening of the back which puts the spine at a disadvantage when it comes to the ability to hold your body upright against gravity. The constant pulling of the shortened muscles increases pressure on the bones of the spine as well as adds strain to muscles because they have to work harder to hold the body up against gravity. When this happens for a prolonged time, the muscles in the lower back become weak and start to fatigue or get tired sooner.
How do you prevent tight hamstrings?
Stretch, stretch, stretch and stretch!
A simple stretching routine can help limit the amount of tightness especially if you are sitting all day. This doesn't have to take up a lot of time – all it takes is maybe 15-20 minutes per day to undo the damage sitting all day has done. If you have time to watch TV you have time to stretch; you can stretch as you watch TV!
For some great tips and stretches about how to release your tight hamstrings, I highly recommend you watch this video (it significantly helped improve my hamstring flexibility):
Remember though, it's not just tightness in the hamstrings alone that can cause low back pain, you need to develop a strong core too and ensure you maintain proper posture as much as you can.
Your new best friend: The foam roller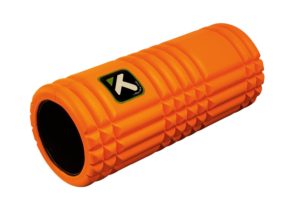 One of the best investments you can make for your body is a foam roller!
They are relatively cheap, can be used on many parts of your body (i.e. legs, back, neck and chest) and will make your back feel great, especially after a workout or a long day of sitting in the office. All it takes is 10 – 15 minutes of rolling to decompress your back and tight muscles before you feel amazing. The roller puts pressure and works on the muscles, similar to what a massage therapist would do!
I try to use my foam roller EVERY. SINGLE. DAY!
If you get into the habit of foam rolling you WILL notice an improvement in flexibility and a decrease in pain.
I can almost guarantee it.
That's it from me for now. If you have any questions or comments let me know below.
Stand tall and be proud!
---