I talk about body language a lot and cannot stress enough how important it is to understand.
Whether you want to boost your confidence, appear less intimidating, be someone to emulate, or appear more sincere you cannot avoid body language! That's just the tip of the iceberg. Everyday we try to decode other peoples body language (either consciously or subconsciously) and they ours. We look at peoples facial expressions, gestures, touches, physical movements, posture, tone, and we try to "read" that person. As a tall person our height draws a lot of attention to ourselves. Thus it's crucial that we understand how our non-verbal cues help people form opinions about us.
In fact it's been shown that non-verbal behaviours comprise approximately 60 to 65% of all interpersonal communications and, during lovemaking, can constitute 100% of communication between partners.
Knowing how important non-verbal cues are, the question becomes how do we learn to successfully read them?
The answer can be found in a simple, yet highly informative and practical book: What Every Body Is Saying: An Ex-FBI Agent's Guide to Speed-Reading People.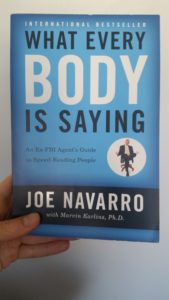 About The Book
This book is written by Joe Navarro, a former FBI counterintelligence officer for 25 years and a recognized expert on non-verbal behaviour.
It's written in a simple, easy to understand language and is straight forward in it's approach. Navarro outlines the theory and research about a particular area of our body and how it influences our body language and then follows up with real life examples from his time at the FBI. It's full of photos showing each nonverbal cue making it easier to understand what to look out for.
The book is broken up into the following 9 sections:
Mastering the Secrets of Nonverbal Communication
Living Our Limbic Legacy
Nonverbals of the Feet and Legs
Nonverbals of the Torso, Hips, Chest, and Shoulders
Nonverbals of the Arms
Nonverbals of the Hands and Fingers
Nonverbals of the Face
Detection Deception
Final Thoughts
For those interested in the scientific validity of everything covered there are 3 pages at the back citing numerous studies and literature. Impressively this book avoids the pitfall of weighing down the book with complex scientific jargon.
You don't have to read this book from start to finish either. Simply jump to any section that takes your interest. Although, what makes this book better than most others is that it provides a concise introduction to the brain and the psychology of body language (chapter 2). It talks about our limbic responses (freeze, flight and fight) and explains how some nonverbal cues are voluntary, and thus can be disguised and controlled, while others are involuntary, and are more difficult to hide. For example, you can rehearse hand gestures or head movements to make them seem natural but you can't practice your pupil dilation.
How This Book Can Help You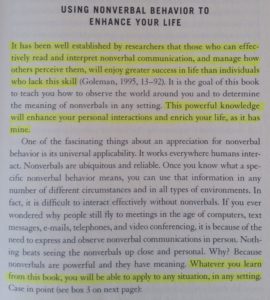 Reading body language is notoriously difficult. Sure, some nonverbal cues are more obvious than others, but even rather obvious cues usually require other, complementary cues in order to accurately assess their meaning. This book will teach you how to identify all nonverbal cues (through actionable and practical advice) and explains what the person displaying them is really thinking and feeling about a given situation.
After reading this book:
You will be able to see if anyone is being deceitful towards you.
You will be able to better understand your family, friends and even strangers that you encounter on the street.
You will know how to convey yourself to the world in the manner that you intend.
When I first read this book I learnt that I cannot just rely on looking at someones face to tell if they are being honest: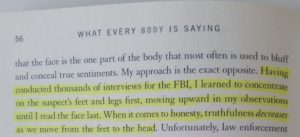 Sneak Peak: 10 Rules For Successfully Reading Body Language
Taken directly out of Chapter 2, Navarro lists the ten commandments that are fundamental to understanding body language. These are:
Be a competent observer of your environment
Observing in context is key to understanding nonverbal behaviour
Learn to recognise and decode nonverbal behaviours that are universal
Learn to recognise and decode idiosyncratic nonverbal behaviours
When you interact with others, try to understand their baseline behaviours
Always try to watch people for multiple tells
It's important to look for changes in a person's behaviour that can signal changes in thoughts, emotions, interest or intent
Learning to detect false or misleading nonverbal signals is also critical
Knowing how to distinguish between comfort and discomfort will help you focus on the most important behaviours for decoding nonverbal communications
When observing others be subtle about it
If you learn how to identify all non-verbal cues and abide by the 10 commandments listed above then you will possess a skill that only a select few people in the world have. Imagine how that would change your life: people would perceive you exactly how you want to be perceived and you'll be able to better understand everyone around you.
In Summary
Like all worthwhile endeavors in life, to get the most out of this book will require effort on your part. You'll need to read it a couple of times, take notes and, most important, go out into the world and apply it yourself. Once you start identifying nonverbal cues on other people you will begin seeing things a little different than before.
This book is truly a must read for every tall person wanting to better understand how their body language effects how they are seen by others. The information that I have gained from its pages has been useful in both my professional and personal life.
Stand tall, be proud of your height and strive for greatness.
---
Image credit for body language (cover image): here