Whilst baggy clothes might feel comfortable, as a tall person, you should try to avoid them at all costs.
Here are the 3 main reasons why baggy clothes are not suited for tall people:
They make you look like you've lost a lot of weight and are drowning in your old clothes.
They make you look like an adolescent that dresses sloppy (not a good look for anyone).
It looks like you are wearing your older brother's or dads clothing (implying you don't have your own sense of style).
When it comes to clothing, especially for us tall folks, the thing that matters most is how your clothes fit.
If your clothes don't fit, you won't look good!
It's really that simple.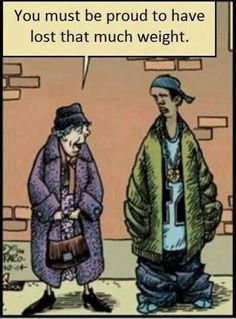 I've found that sticking to close-fitting / tailored clothing works best. For most work shirts or pants that I buy I opt for slim, tapered or fitted. Be sure to check the fitting charts first before you buy as each brand has their own style of cut. For example, I find that Charles Tyrwhitt shirts, on average, are larger than what you would expect from a particular cut. In my review of their shirts, I found that extra-slim fit is about the same as a regular slim fit for most other brands.
Ultimately, you don't have to wear skinny jeans and your buttons shouldn't be bursting at the seams. Comfort is still a priority. However, try to avoid excess material pooling and bunching around your body, making it look like you are carrying around a spare tire!
Note, there are a few times when wearing baggy clothing is acceptable. If you are going to the gym or if you are participating in sports then comfort takes priority and you don't need to wear fitted clothing. For all other occasions, ditch the baggy clothes.
If you avoid baggy clothes, you will look better than most people.
Stand tall and be proud.
---