Today I have a special guest post written by a tall woman (my girlfriend, Lana). Lana is a great example of a tall woman embracing her height and not letting it stop her from achieving success with her training. Check out her impressive gravity defying handstands and acrobatic movements on her Instagram page (@upsidedown_lana) to see what I mean!
As this blog is about all things tall I asked Lana to write an article about the everyday annoying things she experiences as a tall woman. It is our hope that all the tall women readers of this blog can relate to Lana's article. If you can and have your own experiences that you would like to share please leave a comment below.
Without further ado, here is the article.
---
Hi! My name is Lana, and I'm 180 cm (5'11") tall.
Being a tall woman is awesome, for all the same reasons that being a tall man is awesome (and a few others). You can reach tall things, you can see over crowds, you have awesome long legs, and you can use your short friends as arm rests.
But, there are also some annoying things about being a tall woman…
1. Boys
I'm talking about this first not because it's the most important reason (because it's not that important), but because it was the first tall girl problem I faced.
I had my growth spurt at the age of 10 and was taller than EVERY SINGLE GUY in my class. This is really inconvenient for an awkward, gangly, shy girl who is about to hit puberty and is forced to pick a dance partner for the school dance. In my class, all the relatively tall guys were taken early, so naturally I ended up having to learn the Jive with a guy who was a head height shorter than me, and perform in front of the whole school.
2. Hugging your Short Friends
Trying to hug your short friends is an awkward experience. All tall women will know the feeling of going in for the hug and crouching down trying to avoid being motorboated. For all the Game of Thrones fans out there imagine Jon Snow and Brienne of Tarth hugging. I'm smiling just thinking about it.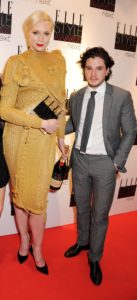 3. Shoes and Clothes
I could talk about poorly-fitting women's clothes all day.
Shopping for clothes online is out of the question. I quickly learned this when I bought 2 dresses online which fit the model in the photo very reasonably. When they arrived, I realized that there was no way I could wear them in public as they barely covered my torso. Goodbye $200.
The same thing goes with pants, long sleeved shirts, and 'maxi' dresses – anything that is supposed to cover your limbs. I have a theory that ¾ pants and sleeves became a thing when tall people gave up finding clothes that fit their limbs properly, and people went 'hey, this looks alright. Let's go with it.'
However, the struggles of clothes shopping are absolutely dwarfed by the pain I feel when I need to buy a new pair of nice looking shoes.
There are 2 problems with my feet:
They are not pretty
They have to be huge enough (size 11) to support my tall frame.
90% of shoe stores don't actually make size 11 shoes, which does not do great things for my foot self-esteem. My feet are not only ugly, but they are also so unusually humungous that making shoes for them is not profitable.
When I do find shoes my size, they are so incredibly ugly. Who the hell designs these?!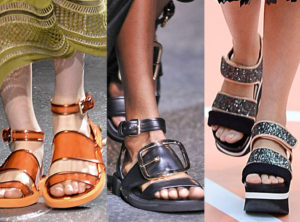 However, when I do manage to find a nice pair of heels that fit me,people ask 'why are you wearing heels'?
SHUT UP. BECAUSE I WANT TO THAT'S WHY.
4. Man Hands
Not all tall women have man hands. But my hands are about as pretty as my feet. For this reason, I never get manicures and my nails are always bare because I don't want to draw attention to my man hands. Because then everyone wants to compare the size of their hands to mine, and I can usually curl my fingers around theirs. Ha ha, let's all laugh at Lana's man hands.
Then the Archer jokes start…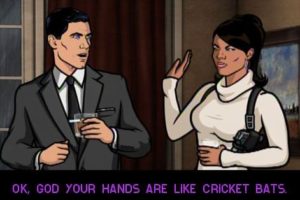 5. Hair Removal
Shaving or waxing your legs is something most women do on a regular basis. But a shorter woman will never truly know what a time commitment this can be if you have extra surface area on your legs. This multiplies when you also have muscly legs from doing ballet or playing basketball when you were young (of course, because you were tall and everyone said you should.)
Often, I don't wax my legs (even though it's overdue) because it simply takes too much time that I don't have. On these days you'll either see me wearing pants, or if it's a hot day, trying to keep my legs in dark places (like in the shade or under tables) to make the hair less obvious.
When I want to wax my legs, it's a major event in my day. I put a movie on, get comfortable with some pillows and a cup of tea, and start the painful hour long process.
Despite all these things, I absolutely LOVE being tall and I would not change a thing (well, maybe going down one shoe size wouldn't hurt).
So, to all the shorter women reading, I hope this article has given you some comfort in knowing that you don't have to deal with these things alone. Buy the tallest heels you want and put your pretty little feet in them, and watch the taller girls get envious!
Embrace your height ladies, no matter if you are short or tall!
---