A giraffe in the wild is the equivalent of a really tall person in society.
Given that this blog is about all things tall, it wouldn't be complete without at least one article about the tallest living animal in the world: the giraffe. Not to forget also that the giraffe is the spirit animal for most tall people.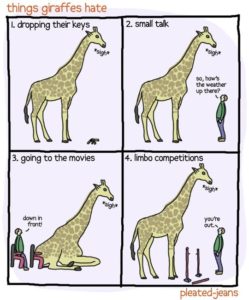 Before I started my research for this blog post I thought this would be really simple as surely there can't be that any interesting facts about giraffes. How wrong I was – not only did I find a plethora of fun facts about giraffes but I struggled to narrow them down to the 5 most interesting ones. This means that there will be potential for a follow up article pending the popularity of this blog post. So, if you want to learn more about giraffes let me know in the comments below. Otherwise I hope you enjoy this article as much as I enjoyed researching it.
1. Origin of the word "giraffe"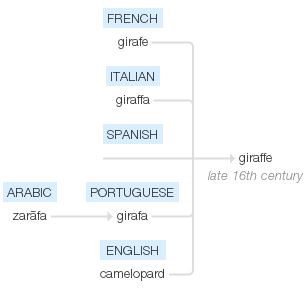 The word giraffe was introduced into the English-speaking world during the 16th century.
It comes from the French word girafe, which in turn comes from the Arabic word zarāfa, which means "one who walks swiftly".
2. Long legs = long stride
Not surprisingly giraffes use their long legs to walk swiftly! Although, given the length of their legs and somewhat swaying vertically balanced pillar of a neck, they actually appear to move slowly.
When giraffes do need to move swiftly they don't canter or gallop by alternating their front and rear legs off the ground. Rather, they move front and rear legs on the same side at the same time, alternating left and right—rather than front and back—in a pattern known as "pacing." In extreme circumstances giraffes can pace as fast as about 35 miles per hour.
3. Intricacies of a giraffe's neck
There's no denying that the most notable feature of a giraffe is it's very long neck.
How many bones comprise a giraffe's neck?
Seven!
The same number as in a human being, except that the giraffe's are huge, each cervical vertebra averaging about 10 inches in length.
The giraffe's great height poses a number of difficulties that have been overcome via some notable adaptations:
In order to pump blood seven feet above the animal's heart to that towering head, an exceptionally high blood pressure is required, as much as three times the human systolic level. In order to keep from blowing their arteries apart, giraffes need special structural supports within those blood vessels.
In the other direction, to prevent blood from pooling in their feet, which are at the end of some very long legs, giraffes have evolved the equivalent of compression stockings, like those that people use post-surgery or to prevent deep vein thrombosis on long airplane rides.
These animals have another specially adapted compression system in their necks, which prevents too much blood from rushing to their heads when they bend down to drink—which they don't do very often, since they get most of their water from the leaves they eat, using their highly flexible 18-inch tongue.
4. Why the long neck?
The major theories about why giraffe's have such long necks are:
Natural section
This results from the competition for food. Giraffes share their habitat with lots of other animals — a lot of shorter animals. These shorter creatures also need to eat, snacking on plants and foilage at a height that may not even reach giraffes' knees. Since these shorter creatures pick over food at a lower level, giraffes' necks allow them to reach food and nutrients that others cannot. This becomes especially important for survial in habitats where food can become scare and droughts are fairly common.
Sexual selection
Male giraffes are less cuddly and more ornery than they appear. During the rut, they go at each other, using their heavy, bony heads at the end of their long flexible necks roughly like a medieval ball-and-chain weapon, or flail. And the longer the neck, the more force behind each blow. The winners are more likely to breed and produce offspring.
5. Do giraffe's sleep?
Despite being the tallest animal, giraffes have the shortest sleep requirements of any mammal, sleeping an average of just 30 minutes per day! And when they do sleep, usually it's just for a few minutes; until the 1950s, researchers believed that giraffes don't sleep at all. The giraffe is a prey animal, so many of its habits have evolved out of necessity. Since it's difficult to lie down or get up quickly, sleeping is a huge liability.
As babies, giraffes lay down with their legs tucked beneath their bodies (lowering themselves to the ground is a serious process) and rest their heads on their rumps. Adult giraffes occasionally sleep like this, too, but rarely for more than a few minutes at a time. In fact, they almost never sleep for longer than five minutes at a stretch in the wild, often modifying the position so that they remain standing with their head and neck curved around to rest on their hindquarters. More often, they sleep fully standing—again, in short bursts—or experience a sort of half-sleeping resting period, in which the eyes remain half-open, the animal stays fully upright, and the ears continue to twitch.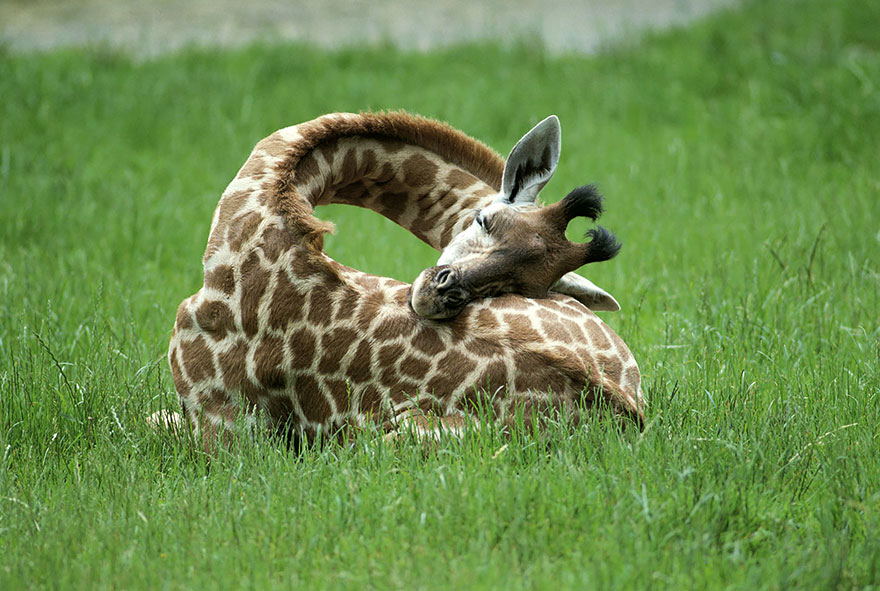 ---
References:
Image Credits: