This is the first part in a series showcasing the humour behind the every day struggles of being tall.
Whilst being tall comes with many advantages there are some things (or situations) in life that sometimes make it a hindrance. Instead of letting these things bring us down we have to learn to laugh at ourselves, embrace being tall and have fun. I hope this series will bring a smile to your face as you relate to some of the pictures below.
In the words of Charlie Chaplin:
 "To truly laugh, you must be able to take your pain, and play with it".
So, without further ado, today's tall people humour is courtesy of the web-comic series: Cyanide & Happiness. You can check out a whole host of hilarious content on their website here.
(click on each image below to enlarge).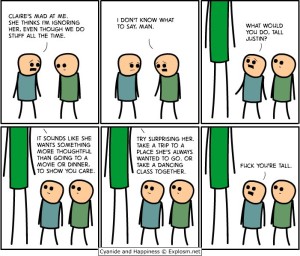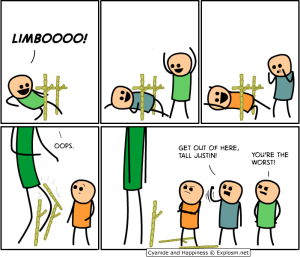 If you have any experiences you would like to share related to the comics above I'd love to hear from you below in the comments.
Stand tall and be proud.
---
Image credit for laughing giraffe (cover image): here