Being tall we stand out wherever we go – this is a fact of life; one that will not change.
We encounter many people throughout the day and what's interesting is that different 'types' of people react differently to our height. In today's blog post I outline the 5 most common types of people that every tall person meets, what a typical interaction with each of these people is like and how often I come across them. Without further ado, the first type of person is…
1. The Un-phased
This is the best type of person to encounter.
They don't care about your height at all (or at least they don't show it) and during your interaction with them the subject of your height will not come up; not as an ice breaker and not as a joke mid way. It's really refreshing meeting these types of people and being judged on what you have to say and your personality instead of a physical attribute (i.e. your height) over which you have no control. Sadly meeting these types of people is rare so when you do encounter a person like this know try to appreciate the moment!
2. The Curious Cat
This person doesn't necessarily make any height related comments or ask any questions but it's obvious that they want too. They usually look you up and down, taking in your height but for some unknown miracle don't mention it. Perhaps they feel some empathy for you and know (deep down) that you hear height related questions all the time. I don't encounter too many types of people like these either, maybe once ever two weeks (if I'm lucky).
3. The Testing-The-Waters
The 'testing-the-waters' is the type of person that will make one (sometimes two; depending on your first response) height related comment. Normally they use this as an ice breaker to start a conversation with you and unfortunately most times goes along the lines of "wow, you're so tall – do you play basketball?" or "how tall are you?". Not original at all. I've found that if you react positively to this comment the person normally feels like they have permission to make more. The best type of response is one that is neutral and then you simply change the subject to make it clear that height is not going to be the focus of the interaction. The frequency of encountering these people is pretty high, i'd say as a minimum, one person per day.
4. The No Shame
"How's the weather up there?", "can I have some of your height?", "OMG, you're so tall"… these are just some of the questions or comments you will hear the 'no shame' type  bombard you with when you meet them. They will stare at you from afar and point out your height to others and most of the conversation with them will be about your height. Engaging with these people can be very frustrating. Not all of them are that bad though. Some people think that by drawing attention to your height they are somewhat praising you or trying to find common ground with you. Little do they realise that we hear these questions all.the.time! I encounter these types of people the most frequently.
5. The Jealous / Intimidated
The name speaks for itself. These people wish they were as tall as you and generally will make negative comments about you and your height to make themselves feel better. My best advice is to simply ignore these people. They are not worth your time or energy. Your height is a blessing and you should learn to accept and embrace it.
Frequency of Encounters With Each 'Type' of Person
To summarise, below is a pie chart showing the approximate frequency of my encounters with each of the types of people described above.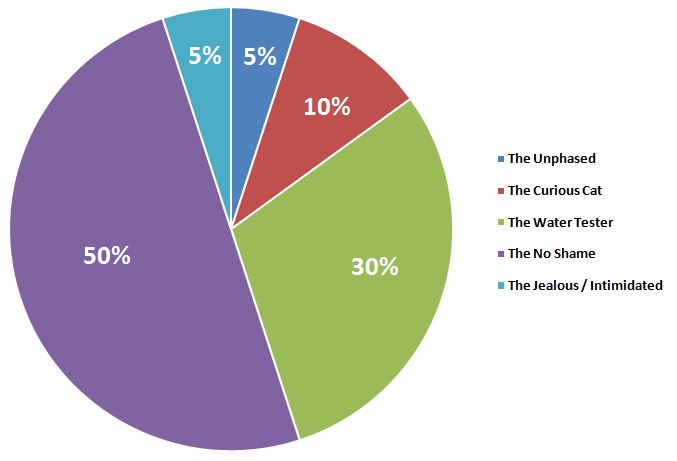 How do your experiences compare? Leave me a comment below, I'd love to hear from you.
Stand tall and be proud.
---
Image credit for silhouette of people: here