Living in Australia it's always been a struggle for me to find local clothing brands that specialise in clothing for tall men.
These brands simply do not exist so I have to buy a majority of my clothing online from around the world.
You can imagine my excitement when, a few months ago, I came across Doubs Clothing.
I was thrilled; finally, an Australian brand that makes clothes for tall guys.
Over the past few months I've been in touch with Doubs Clothing and to my delight I found out that they are fans of my blog!
So much so that in the next few months you'll be able to find some of my articles on their site.
As a result I was very fortunate (and humbled) that Doubs Clothing wanted to send me a sample of some of their clothes.
So, a few days ago, much to my delight, I received a package in the mail.
The contents of the package were:
a hat.
a maroon raglan long sleeve shirt.
a white tee with navy sleeves.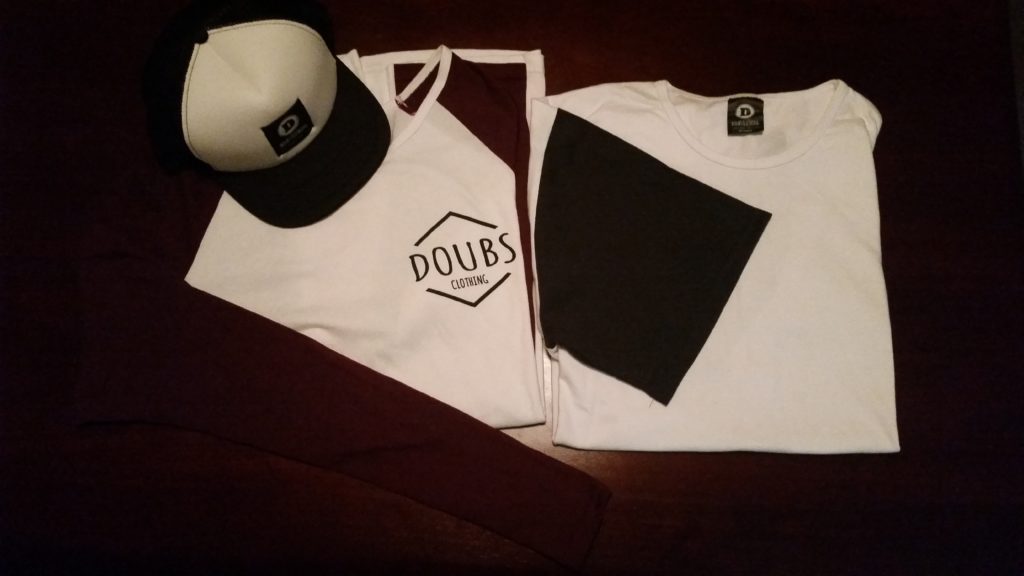 In this blog post I'll be talking a bit about Doubs Clothing and will be reviewing these 3 items of clothing.
I hope you find this information both informative and useful in your search for tall clothing.
For your reference my measurements are:
Height: 6'6″.
Arm length (from neck to shoulder to cuff): approximately 87 cm.
Torso length (from neck to waist): approximately 64 cm.
About Doubs Clothing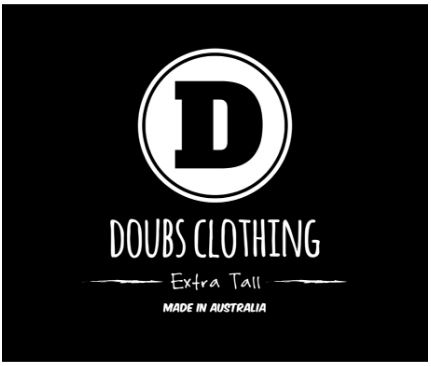 Doubs Clothing is an Australian clothing brand (based in Mornington Peninsula, Victoria) that specialises in clothing for tall men: 6'6″ (198 cm) through to 7'6″ (228.6 cm).
The style of the brand can be summarised as a mix of every day street wear and clothing for more formal occasions.
Doubs Clothing was founded by Samantha (5'5″), the wife of a 6'10" man. After countless shopping trips, nothing was ever long enough & when it was a good length, it was too wide. This is a very real tall person struggle, one that I've touched upon in a previous article. Growing tired and frustrated with the lack of good fitting clothing for her husband, Samantha decided to start making her own clothing.
This led to the birth of Doubs Clothing.
From the very beginning Samantha laid out the following pillars to base her brand around:
Honesty and transparency.
To be ethical.
To be fairly priced.
Thus, all clothing and accessories, with the exception of shorts and hats, is made entirely in Melbourne. All materials are sourced in Melbourne and all employees and small businesses employed are local. Staff is paid a fair wage and the price of the clothing is set as fair as possible so that it's affordable for as many tell men as possible.
You can read more about Doubs Clothing on their website here.
Maroon Raglan Long Sleeve Shirt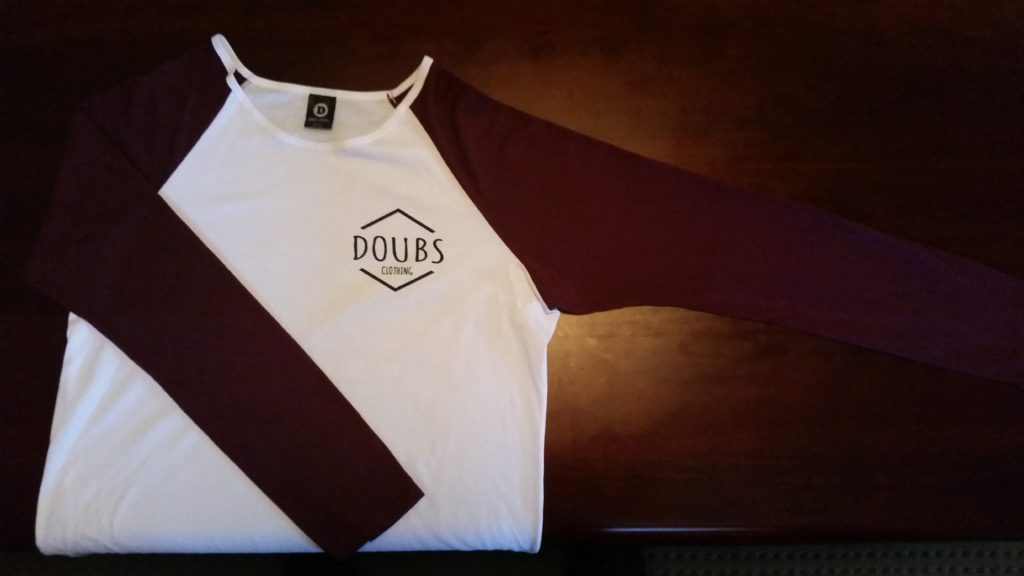 My first thought after putting this on:
"finally, a long sleeve shirt with sleeves that actually fit my long arms".
A raglan is a type of sleeve that continues in one piece up to the neck of a garment, without a shoulder seam. If I was trying on a raglan from a brand that does not cater to taller men I guarantee that the sleeves would have been far too short for me. Fortunately this was far from the case with my Doubs Clothing raglan – the sleeve length was perfect!
It's so refreshing to try on an item of clothing and not have to worry about the sleeve length. If my arms were longer and these sleeves were a bit too short I would simply pull them up and wear the raglan as though it had 3/4 length sleeves.
The length of an article of clothing itself is the second most important thing to consider. The problem with a lot of tees and long sleeve shirts is that the length of the shirt is too short, usually sitting at about my belt level so when I bend forward or lean to the side the shirt rides up my body – not a good look! Again, this is far from the case with the Doubs Clothing raglan. The raglan shirt sits comfortably at least 10 cm below my belt.
The width of the raglan was really good too! In the past I've found that if a shirt has long sleeves then the body is usually too wide and I end up drowning in material. With Doubs Clothing the raglan not only had perfect sleeve length but also a great width.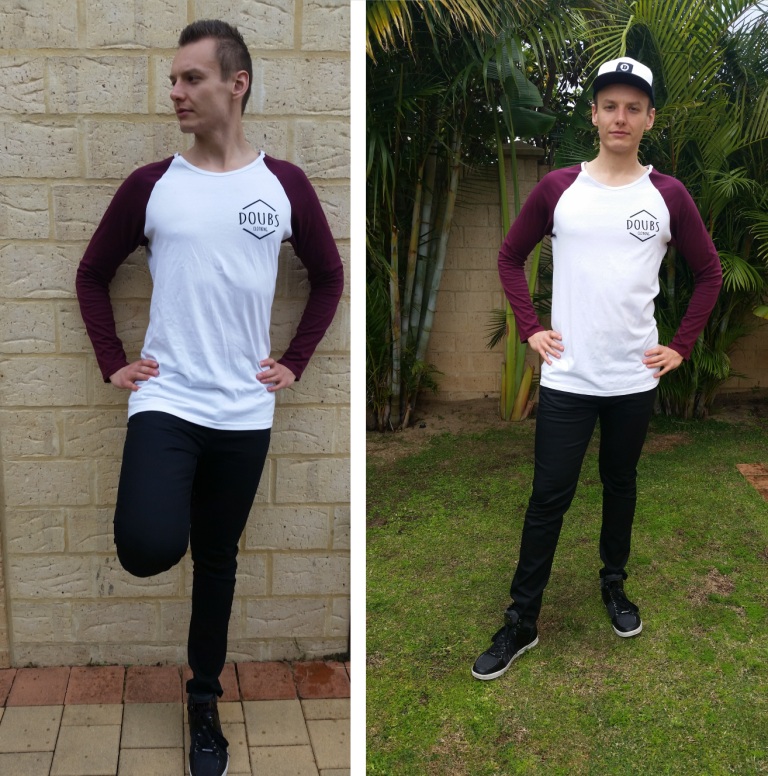 The raglan shirt is made out of cotton and the feel of the fabric and quality of construction is top notch; a reflection of clothing made in Australia. Colour-wise the raglan shirt also comes in light grey, charcoal and black. The light grey and charcoal shirts have 3/4 length sleeves while the maroon and black raglans shirts have full length sleeves.
Check out the full range of raglan shirts here.
Diddy Tee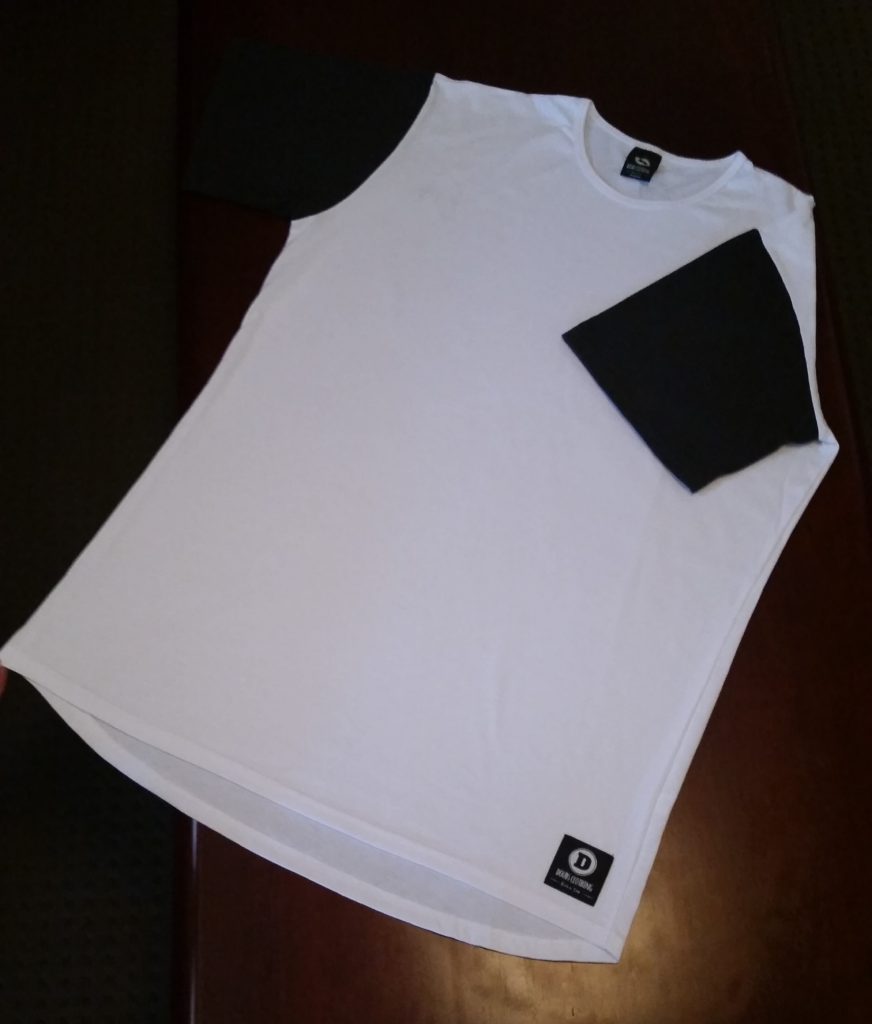 Just like the raglan long sleeve shirt the length of the Diddy Tee is perfect, sitting at least 10 cm below my belt. I found however that the shoulders of the tee were a little bit too wide for my frame. This wasn't a deal breaker for me though as I can still get away with it when opting for a more casual street-wear look. Alternatively I could layer the shirt with a coloured long sleeve button up shirt on top.
The width of the shirt is the same as the raglan so no issues there – a great fit!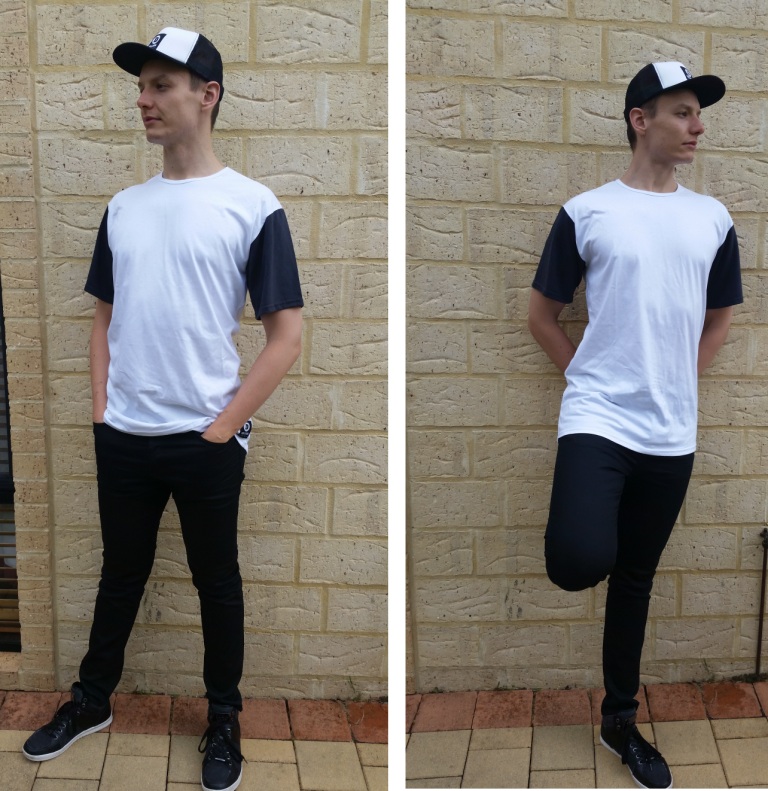 The tee is made from cotton and again the feel of the fabric and quality of construction is fantastic. Colour-wise this white tee comes in a variety of sleeves colours: green and black striped, black and navy.
Check out the full range of tees here.
Doubs Clothing Hat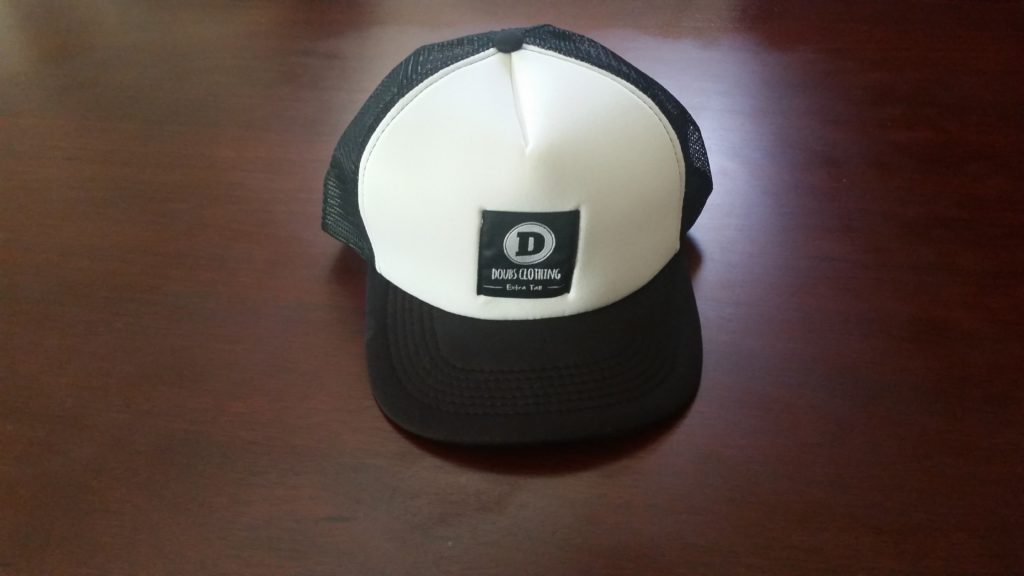 The hat is 100% polyester, "one size fits all" with a foam front, mesh back and has a plastic snap closure at the back.
I've got a fairly large head which means that most hats don't normally fit my head even if the strap at the back is maxed out. I was worried this hat might not fit my head but just like their clothing, Doubs Clothing hats are made for guys with larger heads.
I can comfortably wear this hat and still have two notches spare on the plastic snap. Success!
Overall
Overall I am very impressed and happy with my shipment of clothing.
The sleeve length on the long sleeve raglan is perfect, the fit in the body (i.e. width) for both shirts is great and the quality of material and construction for every item is high!
Although the target height for Doubs Clothing is listed as 6'7″ upwards, I was able to wear it comfortably, standing at 6'6″.
So, if you are over 6'6″ and are looking for some casual or formal clothing that will fit your long arms and torso then look no further than Doubs Clothing. Samantha (the founder and owner) is very friendly and down to earth and will be more than happy to answer any questions you may have about any of the clothing offered.
Be sure to check out Doubs Clothing at:
Stand tall and be proud.