Welcome to Part 3 of the "tall people humour" series showcasing the funny side behind the every day struggles of being tall. If you haven't yet seen Part 1 or Part 2, you can check them out here and here.
This humour for this series is courtesy of  Liz Climo. You can check out all of Liz's wonderful work on her tumblr page here. I find that in the animal kingdom of particular relevance to tall people are the giraffes – natures "tallest" animals. Many tall people advantages and disadvantages can be related to giraffes. So, without further ado here we go:
(click on each image below to enlarge)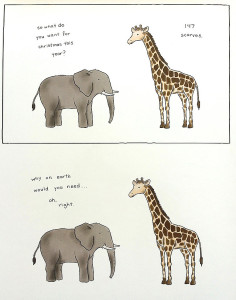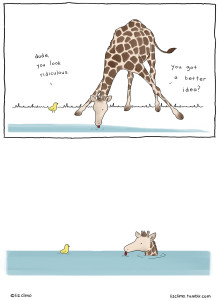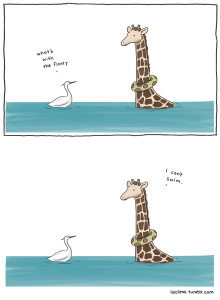 If you have any experiences you would like to share related to the comics above I'd love to hear from you in the comments below.
Stand tall and be proud.
---
Image credit for laughing giraffe (cover image): here