It's no secret, shopping for pants when you're tall sucks.
Many brands out there still don't understand that there is demand for long nicely fitted, comfortable and stylish pants.
Of all the pant types out there I struggle to find many good tall brands that sell a good pair of chinos.
Chinos have to be one of the most versatile pants out there for men.
You can dress them up with a button up shirt and blazer or dress them down with a T-shirt and sneakers.
I don't know how, but up to this point in my life, I'm embarrassed to admit that I've never actually owned a pair of chinos.
I decided I've been missing out for too long and went on the hunt for a great and comfortable pair.
One tall brand of clothing I've been really impressed with is 2Tall.
In fact, I've bought the most comfortable pair of jean I've ever worn from them.
Thus it was a no-brainer to check out their store first.
I scoped out their website and was blown away with the range of chinos on offer:

They have 50 pairs of chinos on offer!
The 2Tall Slim Fit Chinos
Initially I bought just one pair, bronze in colour.
However, I was so impressed with the fit and feel of them that I ended up buying three more pairs!
I bought the dark olive, grey and plum* chinos.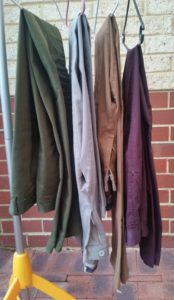 The brand and full name of the chinos is: Ed Baxter** Slim Fit Tall Chinos.
Waist: 34-inch (86 cm).
Inside Leg: 36-inch (92 cm).
* A recent search of the website shows that plum does not appear to be available anymore.
** Ed Baxter Clothing is UK based company established in 2005 that supplies clothing exclusively for larger or taller men. 2Tall sells their brand of chinos through their website.
General Specs of the Chinos
Material: 98% Cotton, 2% Spandex = stretchy, especially handy if you have thicker legs.
Belt Hooks: Six
Pockets: Four (2 at the back and 1 on each side).
Sizing of the Chinos
This is the sizing chart for all pants from 2Tall (sizes shown are in cm apart from waist size which is in inches).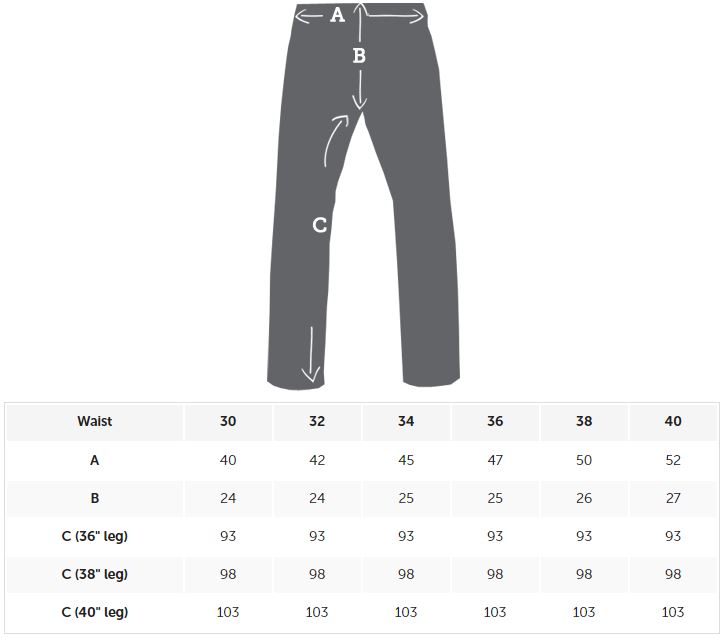 2Tall offers a good spread for waist sizes from 30-inch (76 cm) up to 40-inch (101.5 cm) and more importantly they offer 3 different inner leg lengths:
36-inch (92 cm).
38-inch (96.5 cm).
40-inch (101.5 cm).
The sizes listed above are true to what they state.
Simply take your measurements and look up the size in the chart to find that one that is right for you.
As these chinos are slim fit, 2Tall states:
These chinos are slim fit, so if you have big legs, we'd recommend you go up a size.
The Feel of the Chinos
My immediate thought when trying these chinos for the first time was:
"Wow! They feel really comfortable and I can't believe they are long enough". 
After putting them on I was able to comfortably drop into a "street squat" position.
I've owned chinos before that were stiff and rigid and I wouldn't dream of dropping into a squat for fear they might tear.
Not these 2tall slim fit chinos though.
Wearing them felt like wearing a well fitted glove where I had full range of motion.
I can slide my hands into all the pockets comfortably and no part of the pants feels too tight.
Note: I was really disappointed with my Plum coloured chinos. Despite them being listed with the same specs as the other chinos that I purchased they are not stretchy at all. I can still fit into them but there is no way I can drop into a full street squat wearing them; they seem to be missing the stretchy spandex material that the other pairs contain and as a result are very rigid. I'm not sure if this was a manufacturing error or if they were incorrectly labelled on the 2Tall website.
The Fit of the Chinos
The biggest problem I've had with pants in the past is finding a pair that fit comfortably around my quads.
My legs are 91 cm (36-inch) long, the circumference of my quads is 69 cm (27-inch) and my waist is 86 cm (34-inch).
To fit these legs I usually have to opt for a straight cut which, depending on the brand, can look too baggy.
Tapered cuts are simply out of the question as they don't fit around my quads!
I was hesitant when I saw that these were 2tall slim fit chinos and the website stated to opt for one size larger.
Normally if I go one size larger in the waist for pants, they end up being too baggy for my liking.
I saw that these chinos are partly made with spandex so I took a gamble and opted for my actual waist size.
I'm glad I did.
Putting them On: The Front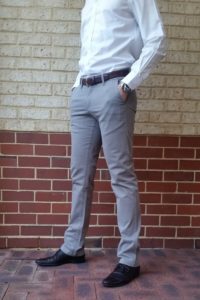 Putting them On: The Back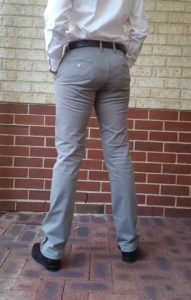 Putting them On: The Side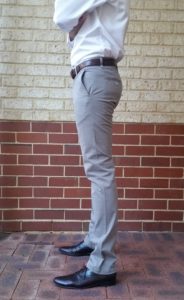 As you can see from the photos above, these pants sit on me really well and fit great. They are not too tight or restrictive in the quads and overall provide a good range of motion.
Pricing
The pricing is very reasonable for the quality and fit that you get.
The Ed Baxter chinos that I purchased are normally priced at 50 pounds (approx $91 AUD).
Keep your eye out on the website though as occasionally they have sales and you can grab a pair for much less.
International shipping costs are as follows: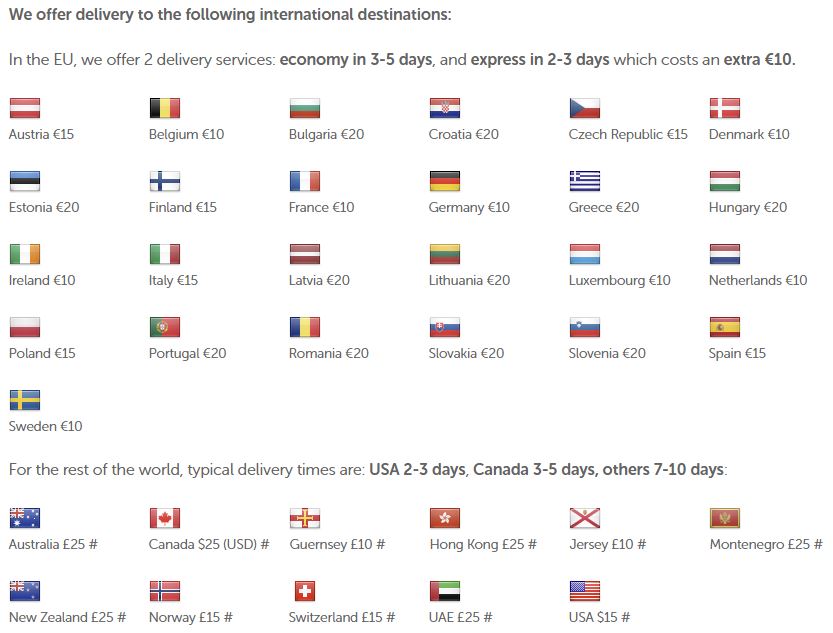 Returns
As with most online clothing stores, 2Tall offers complete refunds or exhcanges within 28 days of purchase.
Full details about returns are outlined here.
A Few Small Complaints
One (very small) complaint is that the length is a tad too long. Towards the bottom of the pants there is an ever so slight excess of material. Ideally for my dimensions a 35-inch (89 cm) would be ideal. However, this is not a deal breaker as this can be easily altered by a tailor or simply folded up.
The other complaint (that I mentioned above) is that the plum coloured pair was not flexible or stretchy at all. For that pair if I had opted for one size larger they would have fit me much better and perhaps offered a better range of motion.
Final Thoughts on 2Tall Slim Fit Chinos
Yet again I am impressed with this brand.
They offer a large range of chinos (50 different pairs), the material and finishing is to a high quality and the fit is great. 2Tall chinos also come in multiple inner leg lengths and a wide range of waist sizes. What more could you want.
I would recommend this brand to anyone in a heart beat.
To see these pants and more be sure to check out 2tall at:
Stand tall, be proud of your height and strive for greatness.
---
NOTE: I am not being compensated for this article; all opinions here are my own.