A while back I reviewed one of the most comfortable jeans I've ever worn: Levi's 508. Those jeans fit me so well that I ended up buying two pairs in different shades of blue.
Aside from length, my biggest issue with finding jeans has always been the fit around my quads (thank you squats and genetics). Most pants that fit me well in the waist end up being too narrow in the quads and on the rare occasion that they fit the pants are too short. One solution in the past was to buy jeans one size larger and get the waist taken in by a tailor. Whilst a good fix, it meant an additional tailoring cost on top of an already expensive pair of jeans.
When I discovered the Levi's 508 all my pant problems went away.
Recently I was in need of a pair of black jeans. My previous pair reached the end of its useful life by developing a hole just below the crotch, where my thighs meet.
R.I.P Black Jeans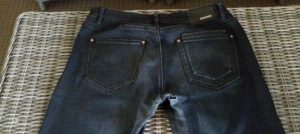 "Not a problem" I thought.
"I'll just buy a pair of black trusty Levi 508's; simple, quick and easy".
I went to the Levi's website and to my absolute shock and horror the 508 jeans were nowhere to be seen.
Digging around on some fashion forums I learnt that Levi's discontinued the 508 jeans.
Apparently they weren't selling too well. If only more tall people knew about them before!
All Hope is Not Lost
The good news is that you can still find some models of the 508 jeans. The bad news is that you need to hurry as stock is running low.
Your two options to secure some Levi's 508's before they are gone forever are:
1. Outlet stores
I read that some outlet stores are still stocking these jeans. As is typical for outlet stores, colours and sizes will vary between stores but it's worth a shot. Unfortunately for me the closest outlet store doesn't stock these jeans anymore.
2. Amazon
Praise be to Amazon, the one trusty online store where you can still find Levi 508's. Colours, fits and stock are very limited but if you search hard enough you'll be able to find a few good pairs.
This is the best pair you can still find on Amazon: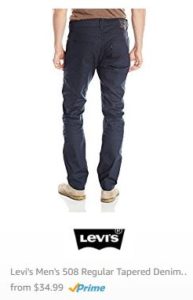 The fantastic news is that many sizes (waist and length) and colours are still available. The smallest size available is 28W x 30L (too small for a tall person) and the largest is 42W x 34L. In my previous review of these jeans I found that 34L still fit my long legs. Aside from the dark blue jeans shown above you can still get the following colours: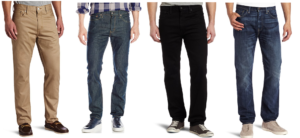 The discontinuation of Levi's 508s does not signal the end of pants that fit tall people with muscular legs. It simply opens up the playing field to a whole host of brands that cater specifically to the tall. Examples of some of these brands are Charles Twyritt, Doub Clothing and 2tall to name a few.
Check out my page Tall Clothing Brands for a description and listing of the tall brands that I wear and recommend.
Stand tall, be proud of your height and strive for greatness.
---
Image credit for dead jeans pile (cover image): here