A short while ago I returned from an amazing 9 day trip to Vietnam.
I flew into Hanoi and spent 2 days exploring the city and getting accustomed to the crazy traffic. I then undertook a 5 day tour to Sapa and Ha Long Bay and spent 2 more days in Hanoi before flying back to Australia.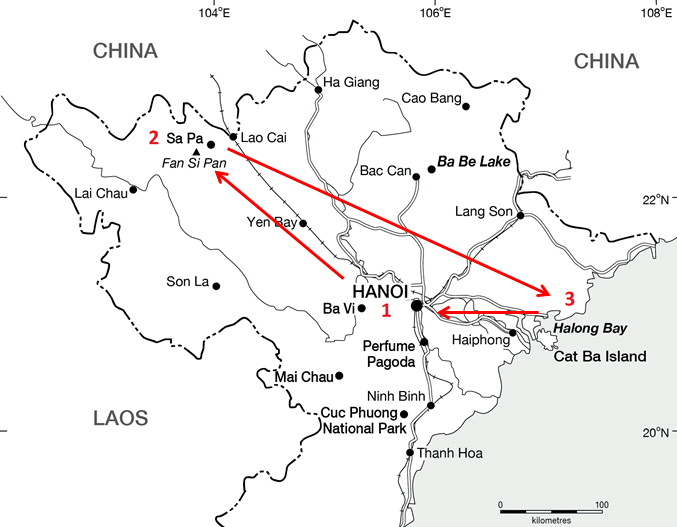 In this article I'm going to outline my experiences as a tall traveler and provide some tips (and tings to look out for) if you ever decide to visit Vietnam.
Interactions with locals
First of all I have to say that Vietnamese people in general are very friendly. This was most noticeable in the service industries (which is expected) but what stood out was that this friendliness seemed genuine and not just put on as part of the job.
The average height of men and women in Vietnam is approximately 162.1 cm 152.2 cm respectively. In more remote areas such as Sapa the average height is even less. I'm 196 cm tall so no matter where I went I stood out a lot.
No matter where I went (airport, shops, restaurants or tourist attractions) people would stare, point me out to their friends, approach me to ask how tall I am or ask for a photo with me. The latter happened a lot more than I was expecting. The most memorable instance was when I was near Ho Chi Minh Mausoleum and I felt like I was the main attraction. In the space of about 30 minutes I had multiple groups of people come up and ask to have a photo taken, not with the Mausoleum, but with me. In another instance whilst browsing through a gift shop I turned around to catch a girl standing and posing next to me while her mum was trying to take a sneaky photo.
If you are tall be prepared to experience some level of "fame" in Vietnam. Also, be prepared for every common tall related question under the sun. I used it as the perfect opportunity to practice funny comebacks and responses.
Out and about in Hanoi
Tiny stools
To say that the streets of Hanoi are busy would be a vast understatement. They are incredibly chaotic but in an "organised" sort of way. On the roads you will see cars, trucks, scooters, bicycles and pedestrians everywhere; each competing for space. Similar can be can be said for the footpaths; typically cramped with pedestrians. As space is limited a lot of restaurants and street food vendors setup these tiny little stools outside their stores (think chairs for children in pre-school). As you can probably imagine I looked absolutely ridiculous sitting on one of these stools, my knees up really high, holding a pate whist "trying" to blend it.
Weird Tables
I'm not sure if this is a Vietnamese thing but so many tables that I sat at had this odd wooden plank hanging below the table which prevented me from fitting my knees underneath properly! My knees discovered this plank the hard way by ramming straight into it when I sat at the first table in the first hotel. Thinking this was a one-off table led me to smash my knees a few more times before realising that most tables were built like that. Consequently I had to sit pretty much side on at most tables throughout the entire trip.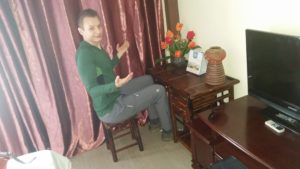 What is this a Citadel for ants?
I visited Hanoi Citadel (highly recommended; especially if you are interested in the Vietnam war and want to see some original tanks and planes) and to my surprise ALL the doorways were ridiculously low. This wasn't limited to just the citadel, most temples and shrines also had very low archways and doors. I'd be lying if I said I didn't hit my head at least a few times.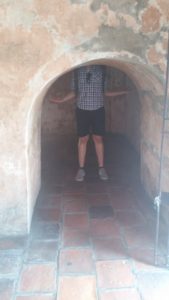 Watch your head, again
Most stores and street vendors had either very low door frames or lots of low hanging items for sale. Be especially weary of the stores as some of them have nice and semi-expensive hanging ornaments which are just waiting to be hit by a tall persons head.
Modes of Transport
Taxis
I read on numerous travel blogs that taxi scams are a big problem in Hanoi. Prior to departure I did a little research and found that the main "official" taxi company operating in Hanoi is called Taxi Group (typically white cars with red and blue stripes). These were the only taxis I caught and consequently I had no problems with any scams. In terms of comfort for a tall person I was worried that the cars would be small and I would struggle to fit but I was pleasantly surprised. In terms of comfort each Taxi Group taxi had a generous amount of leg room and head room.
Night train
To get to Sapa I had to catch the night train from Hanoi to Lao Chai (then a shuttle bus from Lao Chai to Sapa). The journey takes about 8 hours, departing at 10pm and arriving in Lao Chai around 6am. I strongly recommend you spend a little more money and get yourself a private cabin. Regular cabins fit 4 people (two bunk beds and a tiny, and I mean real tiny bit of floor space to place your suitcase) while a private cabin is setup for 2 people (two normal beds). Not only will you get an uninterrupted sleep as no one will be leaving your room to get off at an earlier stop but you won't be having to keep an eye on your luggage.
The bed itself was unfortunately a tad too short for me to lie down fully stretched out on my back. At each end of the bed is a wall so the only way I was able to sleep was on my side.
Shuttle buses
The most uncomfortable mode of transport on my trip was shuttle buses. These were the buses that took me from Lao Chai to Sapa and from Hanoi to Ha Long Bay. The head room was shockingly almost non-existent; by the end of the trip and after many bumps in the road my head became very well acquainted with the ceiling. Leg room in these shuttle buses was also very limited; I opted for the asile seat in all instances and got to somewhat stretch my legs out.
Accommodation in Vietnam
Accommodation in Hanoi was very cheap (compared to a similar luxury level hotel in Australia). For the first 2 days in Hanoi I stayed in a 3 star hotel (The Golden Legend Diamond) and the final two nights were spent in a 4 star hotel (The Golden Rice Hotel). Both hotels were in a central and convenient part of Hanoi, had (surprisingly) large and spacious beds and the staff were very friendly and went above and beyond to make our stay as pleasant as possible. I recommend both and would gladly stay in either if I ever found myself in Hanoi again.
Overall I had a fantastic time in Vietnam and would recommend for everyone to go see it at some point. I most definitely will return one day and explore the Southern parts as well as more into the country side towards the West. Everywhere I went people were friendly to me and I had no major problems. I'm not sure if this is a reflection of the friendliness of the Vietnamese people or if the novelty of my height also played a part…
Stand tall and be proud!
---