A few months ago I came to the harsh realisation that despite what I thought, I wasn't eating nearly as many calories as I thought I was (or should be eating).
At the time, my goal was to reduce my body fat % from 17.8% to about 13% and then start to build lean muscle mass. To try and achieve both these targets I decided to cut down my daily calorie intake whilst at the same time ramp up training at the gym. In theory this sounded like a sure fire way to succeed but after a few months, much to my frustration, I was not any closer to achieving my goals. After lots and lots of reading, researching and self experimentation I came to the (shocking) conclusion that not eating "enough" for long period of time was hindering my progress.
The subject of not eating enough is especially important for tall people that are naturally quite thin (i.e. ectomorph body type) and want to gain some lean muscle mass or tall people that appear thin, yet have "hard to get rid of" body fat (i.e. the dreaded skinny fat syndrome). I covered skinny fat in a previous article; you can read about it here.
When it comes to "dieting" there are only really 1 of 3 goals everyone is striving towards:
Losing weight.
Maintaining current weight.
Gaining weight (lean muscle mass; not fat).
Everyone is different and everyone has their own personal goals but the concepts explained here are universal.
Eating more to lose weight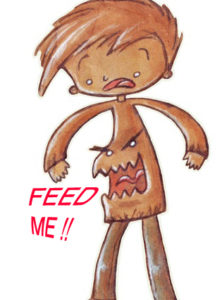 Sound counter initiative?
Very much so but hear me out.
Whilst a low calorie diet will initially work for weight loss, your body will eventually go into "starvation mode" to prevent you from losing any more body weight because it thinks you are starving and doesn't want you to die. In this mode your body will do what it can to hold onto your body fat and eventually it will start to break down muscle tissue for energy!
When your body is in starvation mode you might feel one or more of the following:
Lack of energy
Sluggish workouts
Poor post workout muscle recovery
Loss of muscle mass while retaining fat – this leads to the dreaded "skinny fat" look
On the other hand the opposite holds true. If you feed your body properly and have a good body function you will feel one or more of the following:
Lots of energy
Great workouts
Faster workout muscle recovery
Fast metabolism and sustained fat loss
How will eating more help me lose weight?
In order to convert stored body fat into useful energy, your body needs to be functioning well.
You need to supply your body with enough energy from food to reach this state.
For simplicity, imagine your body needs 1,000 units of energy per day; 750 units are required for vital bodily functions to keep you alive, 100 units for digesting your food so you have 150 "spare" units left for exercising. Assume you exercise such that you require 300 units of energy; 150 of these units will come from food you eat whilst the remaining 150 will come from your stored body fat!
The fact that your body is functioning efficiently means it will be able to convert your stored body fat into useful energy and burn some of it off.
To achieve a state where your body is functioning effectively DOES NOT give you licence to pig out on junk food nor does it mean that you should double how much food you are currently eating! Whilst I advocate that you eat more you need to eat the right "kind" of food. I've touched on this topic in a previous blog post. If you haven't read it yet I suggest you read that first here.
Determine your baseline calorie requirements
Before you start thinking about modifying your current eating schedule you absolutely must first determine your baseline (maintenance) calorie requirements. This is the number of calories you must consume each day (based on your lifestyle and exercise habits) so that you are consuming and burning the same number of calories. This is known as "maintenance calories" and it's only when you are eating at your maintenance that your body will begin to function optimally.
There are numerous free online tools you can use to determine your maintenance calorie requirements! The number will be different for everyone and is based on your height, weight, age and gender.
The tool that I use daily and recommend to everyone (due to it's simplicity of use) is:

You can check out the website here.
MyFitnessPal is one of the most popular web-based exercise and fitness applications available. It helps you keep track of your daily food and beverage intake, calculating all your nutrients, calories, and vitamins for you. It's absolutely free to register and upon registering the first thing you should do is use the sites tool to calculate your maintenance calorie level.
When I first started working towards my goal I was eating about 2,400 calories per day (at the time I "thought" this was alot). After signing up to MyFitnessPal it turns out that my maintenance calorie level is about 2,700 calories! I was under-eating by 300 calories per day!! After a few months of eating at my maintenance calorie level whilst working hard at the gym my body fat % began to fall. I was absolutely shocked! Having reached a body fat % of approximately 14% I decided to commence a slow "clean" bulk process where I am now eating above my maintenance calorie level (2,850 calories per day) in an attempt to put on some lean muscle mass.
Once your body is working optimally, the general rule is:
To lose weight you need to eat slightly below your maintenance calorie level.
To gain weight (muscle mass) you need to eat slightly above your maintenance calorie level.
Bear in mind that weight loss or weight gain is a gradual process. There is no secret shake to help you lose weight in 2 weeks! Anyone telling you otherwise is selling you a lie and trying to take your money!
It's worth noting that when you start losing or gaining weight your maintenance calorie level will change so you'll need to adjust your calories accordingly. Using a tool like MyFitnessPal will help you alot!
I hope this information was useful to you and will help you reach your goals, whatever they may be. Let me know your thoughts in the comments below.
Stand tall and be proud
---