One tall person problem that often goes unnoticed is having to bend down to use a cutting board on the kitchen bench top. It feels silly to admit this but I've spent nearly my whole life not paying attention to the fact that I've been hunching like Quasimodo whenever I've had to cut and prepare food. My kitchen counter sits at a height of 92 cm (approx. 36″) from the ground. I'm 196 cm tall and my hips are 104 cm from the ground so the counter is not even at half of my height!
It was only recently that, whilst looking for healthy recipes, I came across The Kitchn website and saw a post about elevated cutting boards that blew my mind. The first thing I thought upon seeing these boards was "why the hell didn't I think of this; it's such a simple fix". The elevated boards came from AWP Butcher Block (unfortunately this company appears to have gone out of business) and were made from hard maple wood with walnut legs.

I have since found a brand that sells not only great looking boards, but ones that are elevated enough so you don't have to hunch while you cook.
John Boos & Co.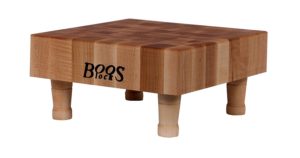 Dating back to 1887, John Boos & Co is one of the oldest manufacturers of premium quality butcher blocks in the USA. Each board is made of hard rock maple and is finished with beeswax to stop staining. This is one serious board for a serious chef! If you want a board that will last you forever and stop you from hunching over then this John Boos board is the one for you.
Alternatively, if you don't want to buy a wooden board on stilts (perfectly understandable) here are a few alternatives:
You can place your board on some large solid books, or a smaller sturdy cardboard box.
You can sit on a chair while using the bench top thereby lowering yourself to a comfortable level of access.
If you like DIY projects, you can make your own elevated cutting board by following the detailed steps outlined at the tall.life website.
If I ever build my own house I will make sure that, aside from high ceilings, I will get a kitchen bench top higher than the standard 92 cm.
Fellow tall readers, how do you deal with this issue? If your mind was blown, like mine was a few weeks ago, that you've spent all this time hunching over your kitchen counter then that's OK too. I'm glad I can be the one to help you make this discovery.
Stand tall, be proud of your height but stay hungry for more.
---