We're absolutely not just another big and tall store. We only sell clothes for the fit not fat man, men who need extra length, not extra width. Our tees, shirts and polos are cut for guys with normal and athletic builds to accommodate longer arms and bodies, and don't hang like tents – 2tall
** Disclaimer: I am not being compensated for this article. All opinions here are my own. **
---
It's no secret, shopping for pants when you're tall sucks.
Most pants fail to meet some of the following criteria:
Is the inside leg long enough?
Will they fit the quads and thighs comfortably?
Is the crotch drop adequate?
Will the pants generally look good?
Finding pants that meet all this criteria is a myth.
Most pants will meet one or two of this criteria and that has to be accepted as "good enough".
Is it though?
After all, we are spending our hard earned money.
Sadly, for a tall person, this has been reality for a long time.
For a long time I've been a fan of Levis 508 Jeans. Like most clothes that a tall person finds, they aren't without their flaws.
Thus, I've been on a mission to find a pair of jeans that I absolutely love. Searching around on Instagram one day I came across a tall men's brand I'd never heard of before.
That brand was 2tall.
I scoped out their website and was blown away with the range of clothes on offer.
Within minutes I came across a pair of tapered midnight blue jeans and knew I had to get them…
The 2tall Jeans
Cub Alex Tapered Fit Jeans (midnight)
34 inch waist
38 inch inside leg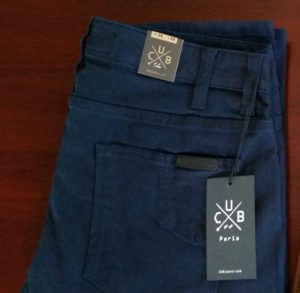 General Specs
Six belt hooks
Six pockets (2 at the back, 1 on each side and 2 small "coin" pockets – on the inside of the right and rear right pocket)
Trying Them On
My immediate thought when trying these on for the first time was:
"Wow, these jeans feel really comfortable". 
I've worn jeans in the past that felt really stiff and rigid.
Not these 2tall jeans. Wearing them felt like wearing a well fitted glove.
I can slide my hands into all the pockets comfortably and no part of the pants feels too tight. A "test" I like to do when trying on new pants is to squat down. If I can't squat down comfortably to pick something up or tie my shoe laces then I won't wear the pants. Pretty self explanatory. I'm happy to report these jeans allowed me full range of motion!
A problem I've had with jeans in the past was finding a pair that fits comfortably around my quads. My legs are 91 cm (36″) long, the circumference of my quads is 69 cm and my waist is 86 cm (34″). To fit these legs I usually have to opt for a straight cut which, depending on the brand, can look too baggy. Tapered cuts are simply out of the question as they don't fit my quads!
You can imagine the smile on my face when I comfortably put on a pair of tapered fit jeans for the first time!
From the Front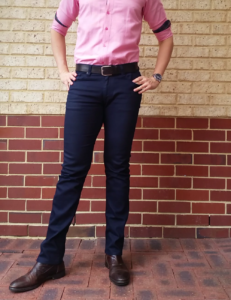 From the Back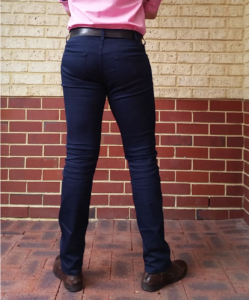 The Secret Ingredient
What makes these jeans so comfortable is the material blend:
93% Cotton
6% Polyester
1% Elastane
Who would have thought 1% elastane would be such a game changer. As I've stated before my quads / thighs are larger than I'd like (thank you genetics, and I'm sure squats didn't help either).
What is it?
Elastane is a generic term for Spandex and Lycra and has been incorporated into men's active wear clothing for a long time.
What's so good about it?
Elastane can stretch four to seven times its initial size and return to its original form at the end of the day.
More importantly, elastane improves the comfort of the jeans in a way you can actually feel.
It makes squatting down and moving around so much easier.
Have you ever worn a pair of pants that felt so restrictive in the legs that you were afraid they might split if you bent down too low?
I have and it felt horrible.
I spent the day walking around like Robocop.
The best thing about elastane is that no one is the wiser or has to know the secret.
One Complaint
My only issue with these pants is that the inside leg is too long.
Currently, all pants from 2tall have an inside leg of 38 inches (or 40 inches). My leg is approximately 36 inches so the jeans were 2 inches too long. In the photo below you can see the jeans bunching up around my ankles.
I emailed 2tall to inquire if they would offer the option for a 36 inch inside leg and was happy with their reply:
"We have discussing it recently, so hopefully at some point in the near future we will aim to have some 36 inch length products on the site".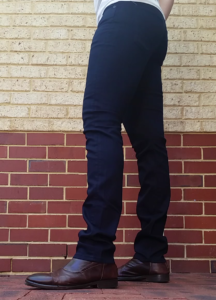 Will this stop me from buying more of these ridiculously comfortable pants?
Absolutely not.
Getting them tailored was a piece of cake and relatively inexpensive.
To see these pants and more be sure to check out 2tall at:
Stand tall, be proud of your height and strive for greatness.
---
Image credit for 2tall logo: here