One of the first things I bought when I started training Brazilian Jiu-Jitsu was a raven fightwear rash guard.
My criteria when searching through the many brands available was:
Will it fit my long arms and not be too baggy around my mid-section and chest.

My arm length (from my neck to the cuff of my sleeve) is approximately: 72 cm (28 inches).
My chest circumference is approximately 100 cm (39 inches).

Does it have a cool pattern / design.
Is it good quality and will it last a long time.
After a lot of searching I decided on a power pangolin white raven fightwear rash guard.

I chose raven fightwear and this particular design because:
they have a huge range of cool designs.
it's an Australian brand (I like to support my home country where I can).
overall reviews have been really positive.
I love the pangolin animal – I think it looks cool and I find it unique and interesting.

Also, as a beginner white belt I think the pangolin represents me quite well: spending most of it's time curled into a ball defending itself.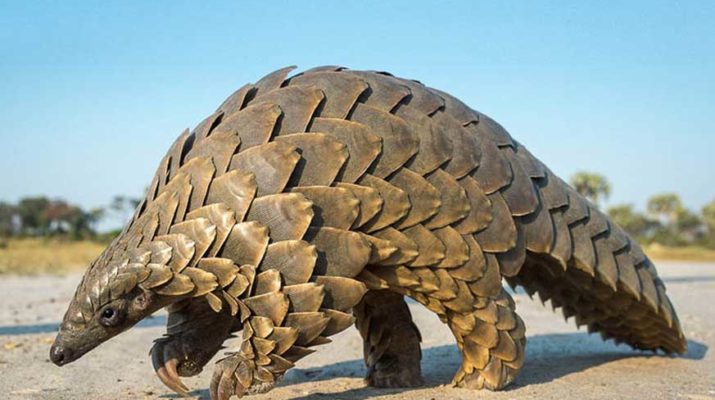 The design I got shows a white pangolin on a black background but you can also choose a blue, purple, brown or black pangolin (depending on your belt ranking).
This colour choice (based on belt ranking) applies to most raven fightwear designs.
The Fit
The most important thing for me is the fit – does the rash guard fit my long arms well!
One of the determining factors for me choosing a raven fightwear rash guard was that the sizing chart (below) offers dimensions for people that are tall and skinny. Some sizes (small and medium) also come in a "tall" fit. It would have been nice if a large also came in "tall fit".
Based on my measurements I opted for a size: large.
Whilst the medium-tall size has a slightly longer sleeve it's recommended weight range is 68 – 77kg.
I weigh 95kg so I didn't want to risk ordering a rash guard that is too tight.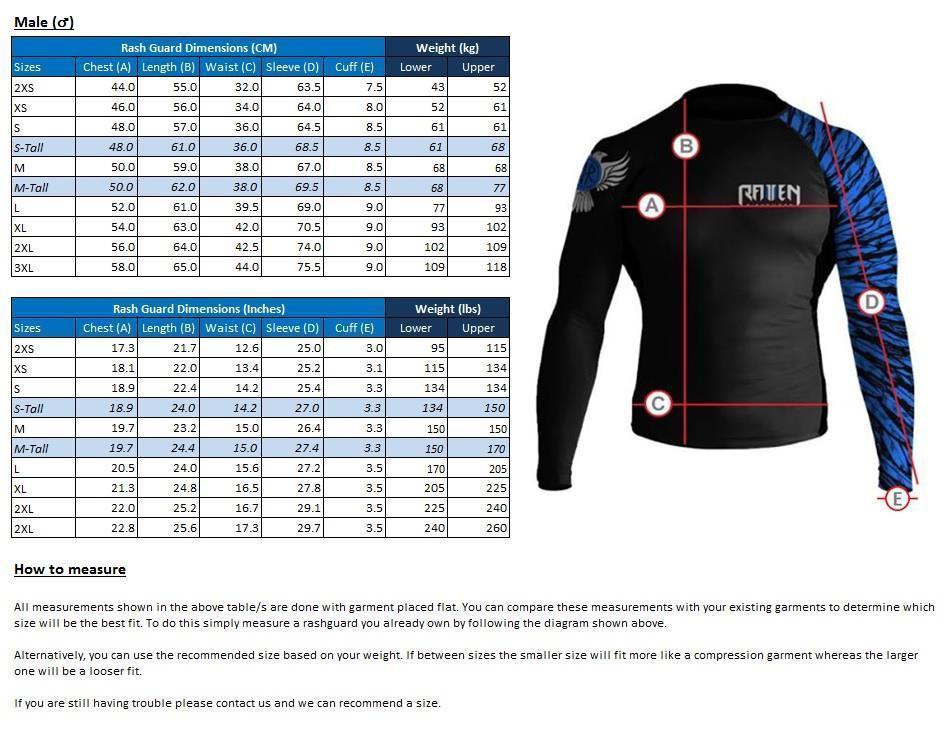 Below are photos from the front and back showing how the rash guard sits on me.
Note: these photos were taken after wearing and washing the rash guard 12 times.
Unfortunately I didn't think to take a photo of the rash guard as soon as I got it.
As you can see, the length in the body and around my chest is good but the sleeves are about 10 cm too short!
When I first got the rash guard the sleeve length was actually longer and sat much closer to my cuff.
However, cold washing seems to have made it shrink which is disappointing!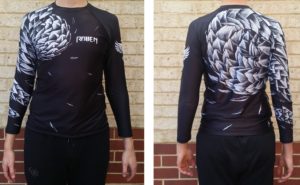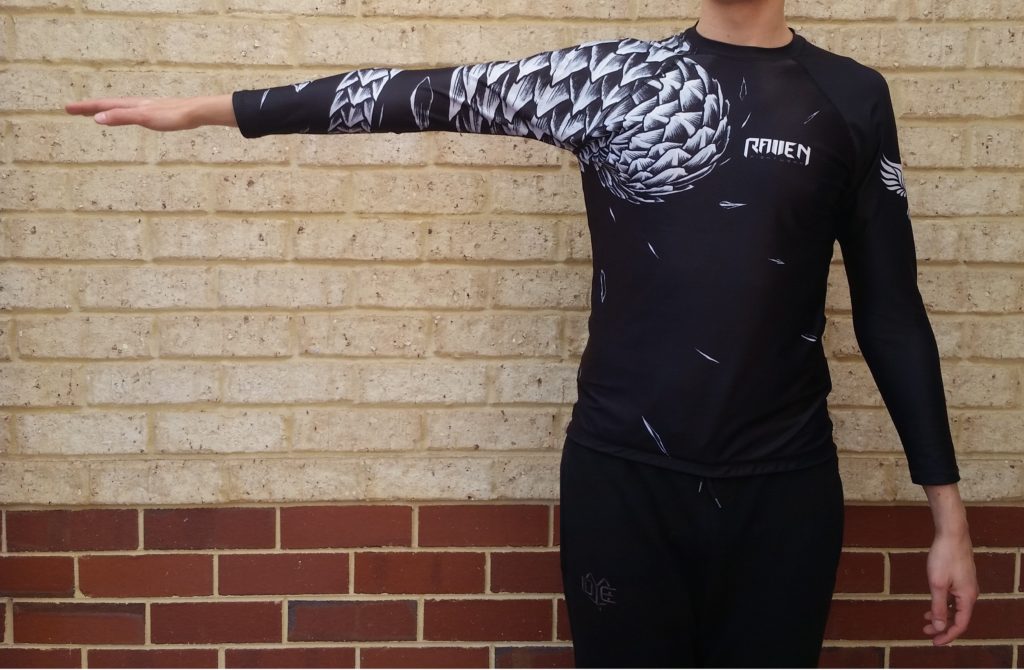 One cool feature of this rash guard is that the bottom is lined with rubber.
This helps hold the rash guard down at your waist, and prevent it from rolling up your body during training.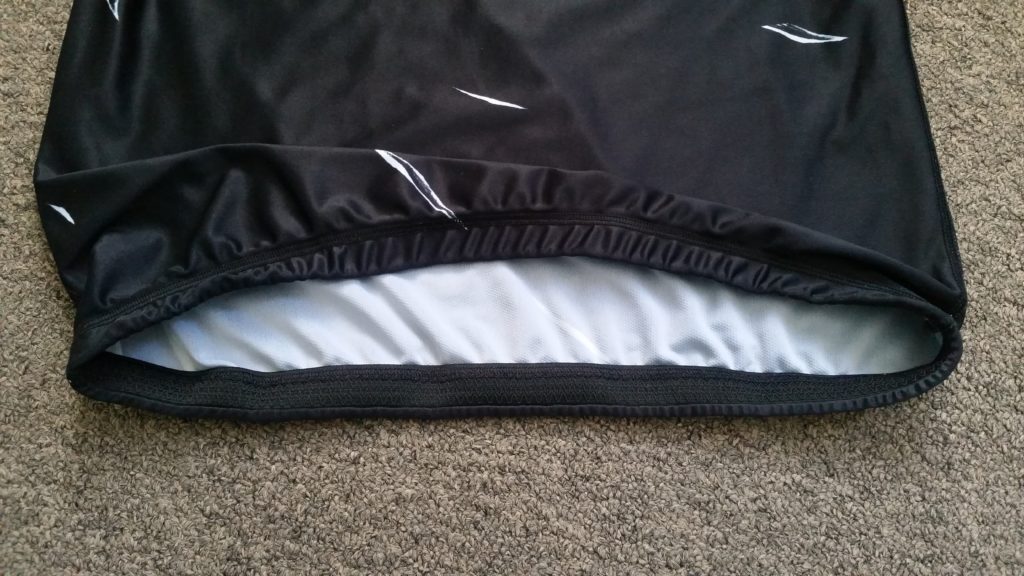 Pros of the Raven Fightwear Rash Guard
The first thing I noticed about the rash guard when I got it was how soft and smooth the material felt.

The material of construction is 80% polyester and 20% spandex.

Following on from point 1, the rash guard is extremely comfortable and flexible (no tight / restrictive parts).

The fabric is "four way stretch".

The website claims the material is "sweat wicking".

This is 100% true. After every bjj session my Gi and body is drenched in sweat but when I take off my rash guard it surprisingly feels dry.
The material is also very breathable and I feel it offers some ventialation underneath my Gi.

Somewhat odour resistant.

I once trained bjj two days in a row and forgot to wash my rash guard. My rash guard (despite my body and Gi being covered in sweat the prior day) did not smell as bad as any other normal piece of clothing would. It didn't smell "fresh" but the odour on it was minimal. I did spray some deodorant (as usual) but was pleasantly surprised that I didn't stink during my class.

The rash guard is very quick drying. It's usually completely dry after an hour hanging outside or after about 2-3 hours hanging inside.
Cons of the Raven Fightwear Rash Guard
The sleeves are about 10 cm too short for my long arms.

The sleeve length was "good enough" at first but over time it noticeably shrunk a little bit.

I've washed this rash guard a total of 14 times now (cold wash every time to prevent shrinkage) and I'm starting to notice lint balls forming on the chest region and along the arms. I expected this to start happening after many more washes.
The rash guard "glues itself" to your body when you start sweating. Consequently you have to take extra care when taking it off to prevent accidentally tearing it.
Despite Raven Fightwear being located on the East Coast of Australia (I live on the West coast) it took about 2 weeks for my rash guard to arrive in the post.
Choice of Designs
One of the things that I love about raven fightwear is their huge range of really cool rash guard designs.
You can choose from many rash guards with cool design from one of the following categories:
Ancient Egypt, Ancient Greece, Hindu, Norse, Japanese.
White belt, Blue belt, Purple belt, Brown belt, Black belt.
Dragons, Elements, Fairy Tale.
Dia De Los Muertos, Harlequin, Tattoo.
Here is a small sample of some of the designs you can get.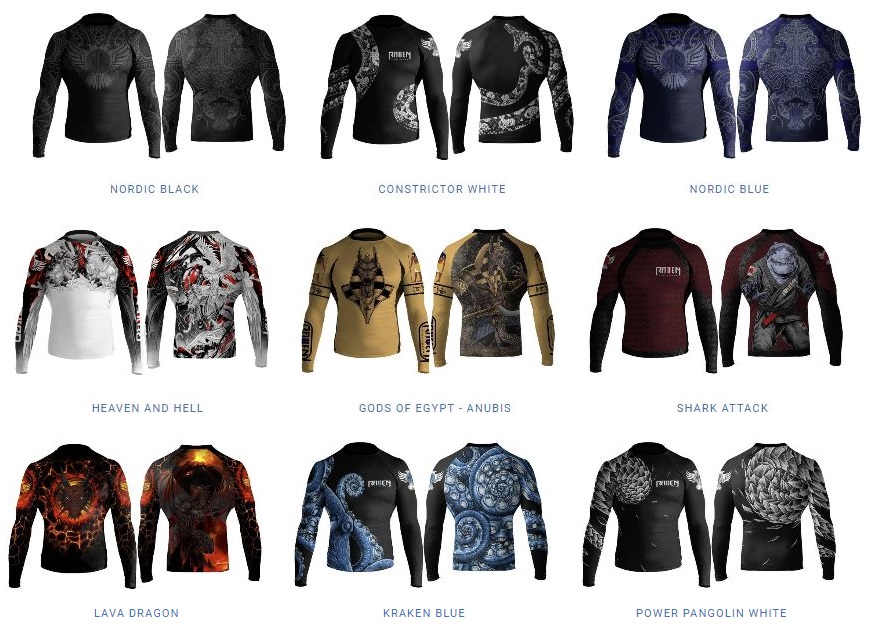 Final Thoughts / Summary
This is a wonderful rash guard to get when starting out with Brazilian Jiu-Jitsu.
The sizing chart is comprehensive and also offers "tall" sizes for small and medium.
The rash guard is lightweight, feels soft and smooth on your skin and wicks sweat away from your body.
There are so many different and unique designs that there should be something to tickle your fancy.
My recommendation, if you choose to get a raven fightwear rash guard, is that you choose a sleeve length longer than your arm measurement.
Stand tall, be proud of your height and strive for greatness.
---