One of my biggest frustrations in life is finding clothing to fit my long limbs. I've wasted countless hours trying on shirts and pants at department stores only to walk away empty handed. The dilemma with most shirts is a trade-off between sleeve length and correct waist width or correct shirt length. For some bizarre reason shirt manufacturers make the assumption that if you are tall you must also be very wide. Finding pants is no better; most pants are either too tight in the thighs / quads or way too short.
Thankfully, all hope is not lost!
Lately there seems to be an increasing number of companies popping up, tailoring clothing towards tall people. Finally these companies understand that not all tall people are wide, they are in fact lean and  want to dress well and look sharp.
I've created this page to share with you my findings of stores that cater towards tall men. If you are looking for tall tees with longer torsos, casual and dress shirts with long sleeves, jeans with longer inseam lengths or any other piece of clothing for tall men, then you have come to right place.
I have purchased (and wear) clothing from all of these companies and only recommend brands that I believe are good value and provide a wide range of clothing to fit all tall body types.
For reference I am 6'6″ and would be described as having a lean body type.
---

ASOS is a British online fashion and beauty store offering a huge range of clothing for men and women. Recently they've launched a range of clothing for tall men; designed to fit guys 6'3″ and above. They even offer denim in leg lengths up to 38″, and sweats and tees in longer lengths.
Currently I own a number of plain black and plain white muscle fit tees (review to come soon) which not only fit my body really well but are long too.
---
Charles Tyrwhitt is a British clothing retailer, specialising in men's shirts, shoes, suits, knitwear and accessories, with some lines of womenswear.
They offer a huge range of formal and casual shirts with varying sleeve lengths (from 89 cm to 97 cm) and styles of cut at very affordable prices! I've purchased all my formal shirts from them and highly recommend them to every tall man.
Check out my review of their slim-fit and extra slim-fit shirts here. In addition to shirts they have a great range of colourful, quality and long length chinos that fit all leg types. Currently I own 2 pairs: one in camel brown and one in dark green. Check out my chino review here.
---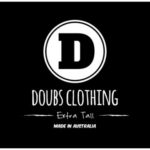 Doubs Clothing is an Australian clothing brand for tall men (6'6″ to 7'4″), specialising in men's pants, t-shirts and long sleeve tops. The style of the clothing can be summarised as a mix of every day street wear and clothing for more formal occasions.
All clothing is made locally in Melbourne so you can be assured the quality is top level. Currently I own a hat, long sleeve maroon raglan and a white tee with navy sleeves. Check out my reivew of these items and Doubs Clothing here.
---