Ask any tall person what items of clothing they dread buying and I guarantee the one item they will always mention is a well fitted dress shirt with a long enough sleeve. The trade-offs a tall person faces when buying a long sleeve shirt can be summed up in the following picture: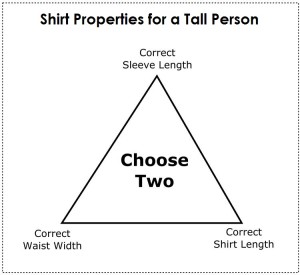 I've lost count the number of times I've found a shirt that either fits really well in the body and waist but the sleeves are too short or the sleeve length is great but for some reason the body is so wide you could almost fit two people inside. I don't understand shirt maker logic: how can they possibly think that if someone has long arms they must be long horizontally too!

From personal experience I've found the worst culprits following such shirt logic are shirts that you buy off the rack at most stores. In particular brands such as Van Heusen and Brooksfield. The design and style of these shirts is great (If only I could wear them) but they just don't seem to understand the body shape of the typical tall man – long arms, a skinny waist and a long body; essentially all three points on the pyramid above.
I am yet to find a store where I can: walk inside, pick out a few shirts, try them on, buy them and walk out holding a shopping bag with a smile on my face.
That leaves TWO possibilities when it comes to buying shirts:
Find an online store that makes shirts specifically for tall people 

(to be covered in a future post).

Purchase shirts off the rack that fit really well in the body and waist, but have slightly shorter sleeves.
This article will be covering the second point.
Well fitted shirt but sleeves too short?
OK, you went to the store, found a great shirt that you just had to buy. Only problem is the sleeves are a little too short. Fear not, there are a few adjustments you can make to this shirt so that you can wear it and not look like you are wearing your younger brother's shirt. The solution may sound very basic but it works: roll up the sleeves.
Take a look at the following photos of me wearing a shirt with sleeves too short (photo 1), with sleeves rolled up to 3/4 length (photo 2) and with sleeves rolled up to halfway (photo 3). There is absolutely no way I would wear this shirt with the sleeves all the way down, it looks ridiculous. Unfortunately I see people like this all the time. If you're working in a professional environment and want to be taken seriously you need to ensure you dress for your height. Depending on where you work you can easily get away with (and still look professional) rolling up your sleeves either to 3/4 length or half way. My personal preference is to roll the sleeves to half way. I find that at 3/4 length when I bend my arm the material around my elbow gets tight and, depending on the shirt, is somewhat restrictive.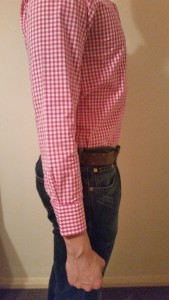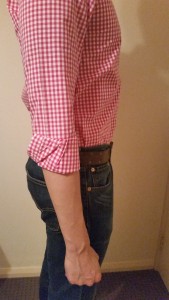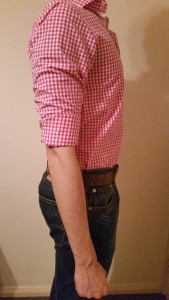 If you don't want to roll up all your shirt sleeves (I know I don't – especially in winter) then your best bet is to buy shirts with a french cuff (i.e. shirt that requires a cuff link). I find these shirts generally have a much longer sleeve and depending on the brand of the shirt you can usually get away with wearing them, even if the sleeve is still a little too short. Also it gives you a good excuse to buy some colourful and stylish cuff links.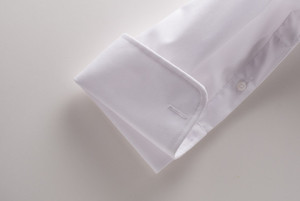 I hope you find this information useful. Do you agree or have any better suggestions? Let me know in the comments below.
Stand tall and be proud.
---