If you are a tall yoga practitioner there's a good chance you've encountered yoga mats that are too short for your long limbs.
I know the feeling.
You lay out a mat, position yourself at one end, start to stretch out and quickly find that your leg is off the mat.
Not cool.
At this point you have two options:
You can put up with a shorter mat and endure the discomfort of balancing off the mat; or
You can get a larger mat that is actually designed for tall people.
A yoga mat to a true yogi is like a running shoe to a marathon runner, or tires to a race car driver.
They don't put up with "good enough" and neither should you.
A yoga mat is something that will last a very, very long time, so why not select one that you'll love.
Giraffe Athletic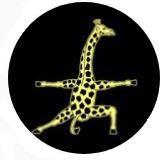 A while back I interviewed 6 foot 8 yogi, Brandon.
As I mentioned above, Brandon is the owner of Giraffe Athletic (@giraffeathletic on Instagram or official website).
Giraffe Athletic makes extra-large 85″ x 36″, high-density, high-quality yoga mats!
If you are a tall yogi tired of using regular yoga mats that don't fit your entire body then giraffe athletic mats are just for you.
Made by a tall (6 foot 8) yogi for other tall yogi's.
Everything You Need to Know About Giraffe Athletic Mats

Colours: Midnight and cobalt.
Dimensions: 85″ x 36″ (216 cm x 91.5 cm).
Thickness: 6 mm (mat is high density so it provides more support than other mats).
Material: Closed cell. High density ECO PVC that is certified 16P phthalate free.
Weight: Approximately 12 1/4 pounds (5.6 kg) – the mat is considered heavy for a yoga mat so bear this in mind if you need to carry it long distances.
"Breaking In" Your Giraffe Athletic Mat
As with all yoga mats there is a break in period.
The mat, at first, may feel greasy and there may be a very strong odour.
Both these things will go away with time or you can speed up the process by following the instructions on the outside of the packaging: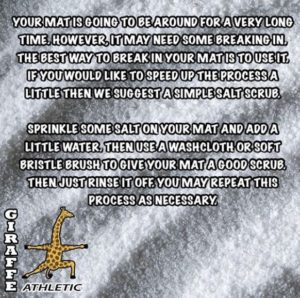 Giraffe Athletic Yoga Mats In Action
Still not convinced the mats are long enough?
Below are some photos taken from the Giraffe Athletic Instagram page showcasing some clients happily enjoying their mats.

If you have any questions or comments be sure to leave them below.
Stand tall, be proud of your height and strive for greatness.