In a previous blog post titled "the only diet advice tall people need" I stated that we should aim to "eat clean" as much as possible for overall well being and weight control. This was to dispel the illusion that tall people can eat whatever they want without consequence. The main reason I advocate clean eating is that it will help you reach your body goals; be it to lose that belly fat or put on some muscle while minimizing the amount of fat you put on. I briefly touched upon clean eating in that article but I want to go into more details here, focusing on the first meal of the day, BREAKFAST. I want to give you some examples of the types of meals I make and show you how quick and easy they are to prepare.
I will be writing a series of articles (of a similar nature) in the future that will cover the other common meals: lunch, dinner, snacks and beverages.
Quick Recap
What is clean eating?
At its simplest, clean eating is about eating whole foods (or "real" foods); those that are minimally processed, refined, and handled, making them as close to their natural form as possible. Eating clean is simply the practice of avoiding processed and refined foods and basing your diet on whole foods.
Basic Principles of Clean Eating
1. Eat Whole Food
Whole foods are foods that haven't been tampered with, in the lab or the manufacturing plant. They are foods straight from a farm: whole fruits and vegetables, grass-fed and free-range meats, wild caught seafood, unsalted nuts, and seeds.
2. Minimise Processed Foods
Processed foods are any food that has a label. A label means that more than one ingredient was used to make that food. You don't have to eliminate all processed foods. Some of them can be convenient e.g. pre-chopped vegetables, or fruits canned in their own juice. A majority of them unfortunately can contain large amounts of hidden sodium, fats, and sugar, which are bad news. Be sure to read the labels carefully.
3. Eliminate Refined Sugar
Refined sugar provides nothing but calories. Other sweeteners can be used, but with all the good foods you add to your diet, refined sugar really has very little place in the eating clean plan.
4. Cook your own meals
Instead of buying meals in a box, cook your meals from scratch. It's not as hard as it sounds! Clean, whole foods need little preparation beyond chopping and sautéing to make satisfying and delicious meals.
Breakfast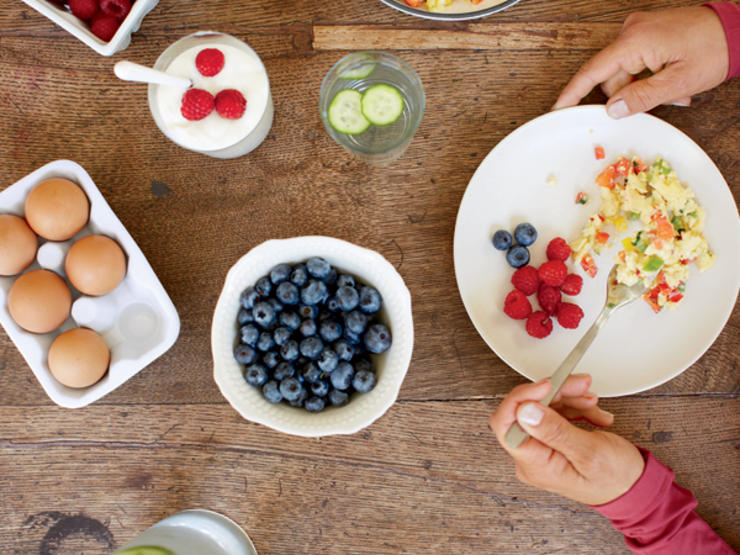 I love breakfast food!
The meals are delicious, they are very easy to prepare and if you are time constrained (who isn't these days) they are relatively quick to make. A lot of people I speak with think that it takes a lot of effort to make a delicious and healthy breakfast. Consequently they opt for breakfast cereals, some sort of toast / bagel or a 'fruit' yogurt. These breakfast options are terrible; not only are they loaded with sugar and other junk but I don't find them very filling either.
Below I've outlined some examples of the types of breakfast food I make everyday. It is my hope that by the end of this article you will be inspired to throw away your breakfast cereals and try to make some wholesome and nutritional meals instead.
Breakfast Example #1: Scrambled egg mix plate
This is my most frequently cooked breakfast meal. All up it takes about 15 minutes to prepare, cook and clean. There's nothing better than sitting down with a cup of coffee and this plate to start my morning. If I'm still feeling hungry afterwards I eat a piece of fruit (e.g. apple, pear or some pineapple).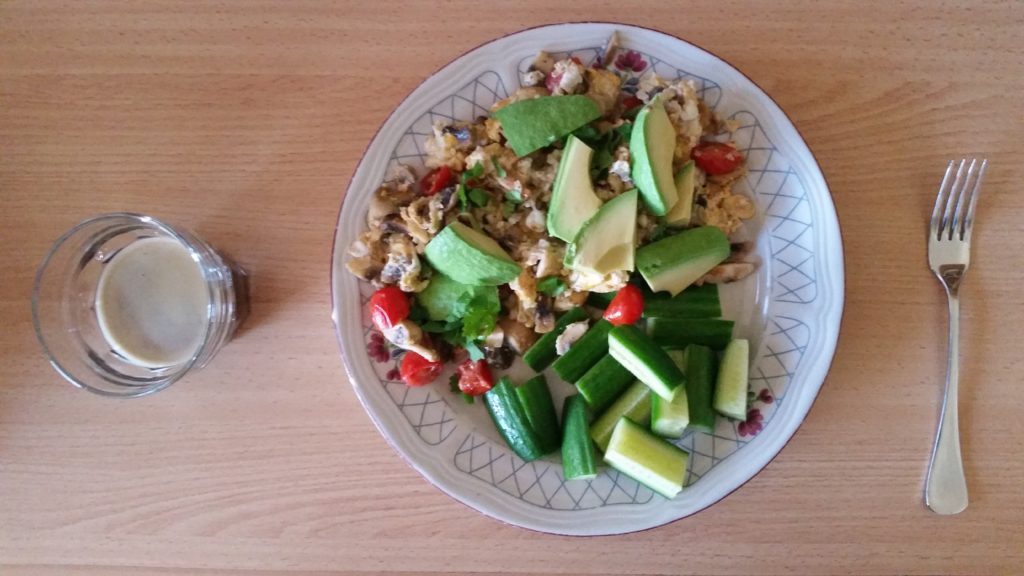 Ingredients:
1 tablespoon coconut oil
3 eggs
1/2 avocado
100g cherry tomatoes (cut in half)
100g white button mushrooms (diced into smaller pieces)
1 Lebanese cucumber (cut into quarters)
Parsley or basil to garnish (finely diced)
Pinch of salt and some pepper
Method:
Start by frying the mushrooms until they begin to shrink then throw in the cherry tomatoes and keep stirring. Once tomatoes begin to release their juices crack the eggs into the pan and keep stirring and mixing until the eggs have cooked. Transfer the scrambled egg mixture onto a plate, add a pinch of salt and pepper, add some parsley or basil for flavour and add freshly sliced avocado on top.
Preparation / Cooking / Cleaning Time:
5 minutes / 5 minutes / 7 minutes
Approximate Calories (kcal):
450 (using myfitnesspal)
Breakfast Example #2: Chia seed pudding
This is more of a supplementary dish rather than a dish on it's own. I like to have this is a "dessert" (although there is hardly any sugar in it nor is it very sweet) after eating some hard boiled eggs, avocado and an apple. The beauty of this dish is that you can prepare it the night before so you don't have to waste much time in the morning getting it ready.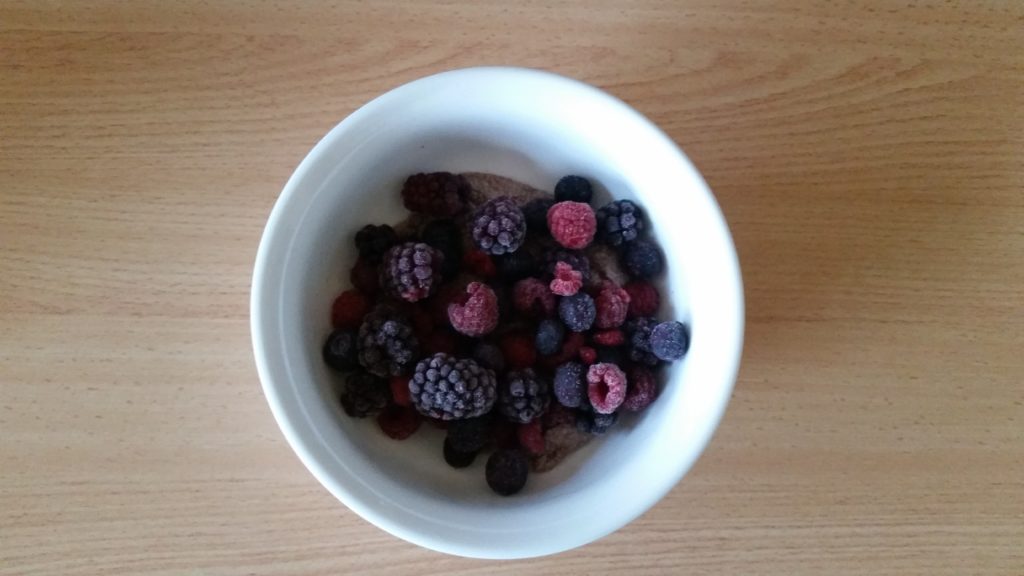 Ingredients:
3 tablespoons chia seeds
1/2 cup coconut milk (or almond milk)
1 teaspoon cacao powder
1 teaspoon cinnamon powder
Frozen (or fresh) mixed berries
Method:
This is a dish that you have to make in advance.
Into a large bowl add the chia seeds, coconut milk, cacao powder and cinnamon. Stir thoroughly so that all the chia seeds and spices are mixed together. Wrap the top of the bowl with some glad wrap and place into the fridge for about 2-3 hours (the chia seeds will soak in some of the milk and expand). I make my mixture in the evening and leave it in the fridge overnight.
Once your mixture has expanded and is ready to eat, add some mixed berries or fruit of your choice (e.g. banana or mango) and enjoy!
Preparation / Cooking / Cleaning Time:
5 minutes / 2-3 hours (left in fridge or overnight) / 10 minutes
Approximate Calories (kcal):
300 (using myfitnesspal)
Breakfast Example #3: Moroccan spiced eggs
This meal was inspired by a Moroccan cooking class that I attended a while ago. In the class I learnt about the amazing versatility, aroma and taste of capsicum (bell pepper for those of you playing along at home in America). Unless you have a lot of free time in the morning I would recommend this dish for the weekend as it takes quite a bit of time to prepare, cook and clean.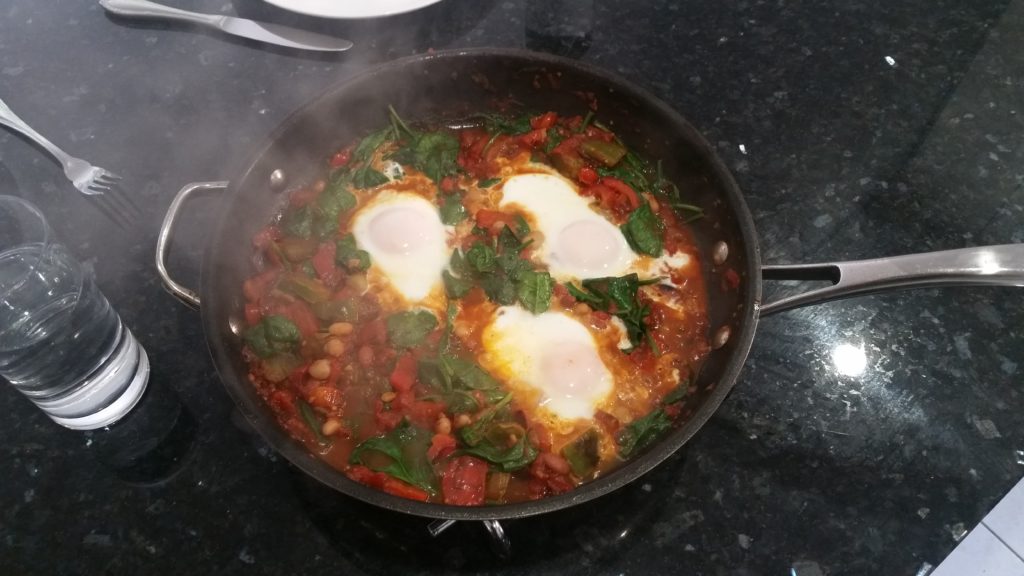 Ingredients:
1 tablespoon coconut oil
3 eggs
1 cup spinach
1 red chili (finely diced; with seeds if you like it hot, without if you don't want too much heat)
1 tomato (diced into small pieces)
1 red capsicum (bell pepper) (diced into small pieces)
1/2 can mixed beans
1/2 avocado
2 cloves garlic (finely diced)
1 teaspoon ground cumin
3 teaspoons paprika
1 teaspoon turmeric
Method:
Into a frying pan (with coconut oil) add the diced chilli, garlic and capsicum. Stir regularly to ensure everything cooks uniformly. Once the capsicum being to soften and breakdown, add the diced tomato and the mixed beans. While stirring add the spices to ensure they don't stick to the bottom of the pan. Let the mixture cook for a good 3-5 minutes then add the spinach and stir until it begins to welt. Using a spoon clear the mixture aside to form 3 separate circles; crack an egg into each circle. Place a lid (with a ventilation hole) onto the frying pan, lower the heat on the stove and let everything simmer until the egg whites are cooked.
Gently scoop out the eggs and mixture onto a plate and cut some slices of avocado on top. The avocado will help reduce the heat of the chili.
Preparation / Cooking / Cleaning Time:
10 minutes / 15-20 minutes / 15 minutes
Approximate Calories (kcal):
550 (using myfitnesspal)
I hope by now you're beginning to see that breakfast can be so much more than cereal or a toasted sandwich. The examples above are not only 100% better for you than most (if not all) cereals, but they will keep you full longer and are better for you (and your waistline) in the long run. These are only a few examples and by no means are they exhaustive. You don't even have to eat eggs all the time! If you are feeling brave why not make a salad and toss in some salmon or meat from last nights dinner. Again, the options are endless; whatever you do just try to eat wholefoods!
What are your thoughts about this article and do you have any recipes that would like to share? Leave your comment below, I would love to hear from you.
Stand tall and be proud!
---